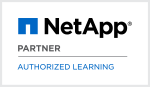 Data ONTAP SAN Implementation (SANIMP)
Zielgruppe
Professionals who implement SAN solutions that use NetApp storage systems
Zertifizierungen
Empfohlenes Training für die Zertifizierung zum:
Voraussetzungen
Certification as a NetApp Data Management Administrator
Completion of two courses:
Kursziele
By the end of this course you should be able to:
Define and describe SANs that use FC, FCoE, and iSCSI protocols
Configure Windows Server 2012 R2, Red Hat® 6.5, and Data ONTAP® systems for iSCSI connectivity
Configure Windows Server 2012 R2, Red Hat 6.5, and Data ONTAP systems for FC and FCoE connectivity
Use FC and iSCSI protocols to create and access LUNs from Windows Server 2012 and Red Hat 6.5 systems
Create and access a LUN from Windows Server 2012 and Red Hat 6.5
Size, clone, copy, move, back up, and recover LUNs on Windows Server 2012 R2 and Red Hat 6.5 systems
Troubleshoot SAN connectivity and performance issues
Kursinhalt
In this workshop course, you learn how to connect Windows® and Linux® hosts to NetApp® SANs via FC and iSCSI protocols.
Classroom Training
Dauer 3 Tage
Preis
(exkl. MwSt.)
Deutschland:

2.700,- €

Schweiz:

CHF 2.970,-




NetApp Training Units:

36 NTU
inkl. Verpflegung
Digitale Kursunterlagen
Sprache der Kursunterlagen: englisch
Zum Buchen bitte auf den Ortsnamen klicken
Kurstermine
Fast Lane wird alle garantierten Termine unabhängig von der Teilnehmerzahl durchführen. Ausgenommen sind höhere Gewalt oder andere unvorhersehbare Ereignisse (wie z.B. Unfall, Krankheit des Trainers), die eine Kursdurchführung unmöglich machen.
Dies ist ein Instructor-led Online Training, das über WebEx in einer VoIP Umgebung durchgeführt wird. Sollten Sie Fragen zu einem unserer Online-Kurse haben, können Sie uns jederzeit unter +49 (0)40 25334610 oder per E-Mail an info@flane.de kontaktieren.
Dies ist ein
FLEX
™-Kurs. Sie können an einem
FLEX
Training sowohl bei uns vor Ort im Klassenraum als auch über das Internet von Ihrem Arbeitsplatz oder von zu Hause aus teilnehmen.
Asien & Pazifik
Australien
23.09. - 25.09.2019
FLEX™ Training
Dies ist ein FLEX™-Kurs in englisch.


Zeitzone: Australia/Sydney
28.10. - 30.10.2019
FLEX™ Training
Dies ist ein FLEX™-Kurs in englisch.


Zeitzone: Australia/Melbourne
02.12. - 04.12.2019
FLEX™ Training
Dies ist ein FLEX™-Kurs in englisch.


Zeitzone: Australia/Sydney
Mittlerer Osten
Israel
24.11. - 26.11.2019
FLEX™ Training
Dies ist ein FLEX™-Kurs in englisch.


Zeitzone: Asia/Jerusalem
US$ 1.350,-