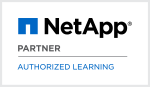 Data ONTAP SAN Implementation (SANIMP)
Who should attend
Professionals who implement SAN solutions that use NetApp storage systems
Certifications
This course is part of the following Certifications:
Prerequisites
Certification as a NetApp Data Management Administrator
Completion of two courses:
Course Objectives
By the end of this course you should be able to:
Define and describe SANs that use FC, FCoE, and iSCSI protocols
Configure Windows Server 2012 R2, Red Hat® 6.5, and Data ONTAP® systems for iSCSI connectivity
Configure Windows Server 2012 R2, Red Hat 6.5, and Data ONTAP systems for FC and FCoE connectivity
Use FC and iSCSI protocols to create and access LUNs from Windows Server 2012 and Red Hat 6.5 systems
Create and access a LUN from Windows Server 2012 and Red Hat 6.5
Size, clone, copy, move, back up, and recover LUNs on Windows Server 2012 R2 and Red Hat 6.5 systems
Troubleshoot SAN connectivity and performance issues
Course Content
In this workshop course, you learn how to connect Windows® and Linux® hosts to NetApp® SANs via FC and iSCSI protocols.
Classroom Training
Duration 3 days
Price
(excl. tax)
Germany:

2,700.- €

Switzerland:

CHF 2,970.-




NetApp Training Units:

36 NTU
incl. catering
Digital courseware
Click on town name to book
Schedule
Fast Lane will carry out all guaranteed training regardless of the number of attendees, exempt from force majeure or other unexpected events, like e.g. accidents or illness of the trainer, which prevent the course from being conducted.
This computer icon in the schedule indicates that this date/time will be conducted as Instructor-Led Online Training.
This is a
FLEX
course, which is delivered both virtually and in the classroom.
North America
United States
28/08/2019 - 30/08/2019
Online Training
Time zone: US/Eastern
Course language: English
guaranteed date!
04/12/2019 - 06/12/2019
Online Training
Time zone: US/Pacific
Course language: English
Latin America
Brazil
09/09/2019 - 11/09/2019
Online Training
Time zone: America/Sao_Paulo
Course language: Portuguese
25/11/2019 - 27/11/2019
Online Training
Time zone: America/Sao_Paulo
Course language: Portuguese
Mexico
Asia Pacific
Australia
26/08/2019 - 28/08/2019
FLEX training
This is an English language FLEX course.


Time zone: Australia/Melbourne
23/09/2019 - 25/09/2019
FLEX training
This is an English language FLEX course.


Time zone: Australia/Sydney
28/10/2019 - 30/10/2019
FLEX training
This is an English language FLEX course.


Time zone: Australia/Melbourne
02/12/2019 - 04/12/2019
FLEX training
This is an English language FLEX course.


Time zone: Australia/Sydney
Middle East
Israel
08/09/2019 - 10/09/2019
FLEX training
This is an English language FLEX course.


Time zone: Asia/Jerusalem
US$ 1,350.-
24/11/2019 - 26/11/2019
FLEX training
This is an English language FLEX course.


Time zone: Asia/Jerusalem
US$ 1,350.-