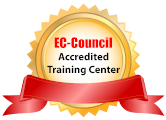 EC-Council Certified Network Defender (CND)
Zielgruppe
Netzwerkadministratoren, Network Security Administratoren, Network Security Engineers oder andere Tätigkeiten im Netzwerkbereich.
Voraussetzungen
Empfohlene Vorkenntnisse: Grundlegende Kenntnisse im Bereich Network Security
Kursziele
Die Cyberkriminalität ist in den letzten Jahren immer mehr zu einer wachsenden Bedrohung für Privatperson und Unternehmen geworden. Diesbezüglich sollten Sie über ausreichende Kenntnisse zur Abwehr möglicher potentiellen Bedrohungen verfügen bevor, u.a., finanzielle Schäden entstehen. Diese Fähigkeiten und Kenntnisse erlernen Sie in dem aktuellen CND Kurs. In diesem fünftägigen Praxis Seminar entwickeln Sie ein tiefgehendes Verständnis von Network Security Technologien und Abläufen. Ziel ist es, dass Sie Cyberattacken aufdecken, passend reagieren und qualifiziert verteidigen können. Durch seinen überproportionalen Praxisbezug, verschafft der CND Kurs Netzwerkadministratoren hervorragende und tiefgehende Kenntnisse über aktuelle Technologien und Abläufe. Diese sind unter anderem: "Network Security Kontrollen, Protokolle und Geräte, Sicherheitsrichtlinien für Ihre Organisation, Auswahl einer passenden Firewall Lösung, Topologie und Konfiguration, Risiko- und Schwachstellenbewertung und Erstreaktion auf Network Security Vorfälle." Im Kurs werden Sie auf die Certified Network Defender (CND) 312-38 Prüfung vorbereitet, die Sie vor Ort am letzten Tag des Kurses ablegen.
Kursinhalt
Module 01: Computer Network Defense Fundamentals
Module 02: Network Security Threats, Vulnerabilities, and Attacks
Module 03: Network Security Controls, Protocols, and Devices
Module 04: Network Security Policy Design and Implementation
Module 05: Physical Security
Module 06: Host Security
Module 07: Secure Firewall Configuration and Management
Module 08: Secure IDS Configuration and Management
Module 09: Secure VPN Configuration and Management
Module 10: Wireless Network Defense
Module 11: Network Traffic Monitoring and Analysis
Module 12: Network Risk and Vulnerability Management
Module 13: Data Backup and Recovery
Module 14: Network Incident Response and Management
Classroom Training
Dauer 5 Tage
inkl. Verpflegung
Verpflegung umfasst:
Kaffee, Tee, Saft, Wasser, Cola
Gebäck und Süßigkeiten
Frisches Obst
Mittagessen in einem der naheliegenden Restaurants
Gilt nur bei Durchführung durch Fast Lane. Termine, die von unseren Partnern durchgeführt werden, beinhalten ggf. ein abweichendes Verpflegungsangebot.
Digitale Kursunterlagen
Kurstermine
FLEX Classroom Training
(
Hybrid-Kurs
): Kursteilnahme wahlweise vor Ort im Klassenraum oder online vom Arbeitsplatz oder von zu Hause aus.