Weitere Aruba Zertifizierungen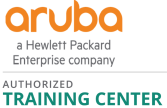 Aruba Certified Switching Professional (ACSP)
Validate that you can implement and operate enterprise level Aruba campus switching solutions.
This certification validates your knowledge of these topics and more:
Implementing ArubaOS-Switches including securing access, redundancy technologies, link aggregation techniques and switch virtualization with HPE's Virtual Switching Framework
Configuring dynamic routing with Open Shortest Path First (OSPF) and Border Gateway Protocol (BGP)
IP multicast routing
Network optimization incorporating Quality of Service (QoS) priorities
Protecting the network using Access Control Lists (ACLs) and other security measures
Voraussetzungen
Typical candidates for this certification are networking IT professionals with a minimum of 1 years' experience deploying enterprise level network solutions.
Skill level
Professional
Prerequisites
ACSA is a required prerequisite for ACSP.
Candidates must pass the Implementing Aruba Campus Switching Solutions certification exam on PearsonVUE.
Duration: 1 hour, 30 minutes
Length: 60 questions
Exam Code: HPE6-A45
Upgrade Paths
You may qualify for one of the upgrade paths below. To achieve the ACSP via an upgrade path it is still highly recommended to attend training. View the Learning Resources to find learning options.
Upgrade from Cisco, Juniper, or Brocade You must have 1 of these:
Cisco – CCNP (any CCNP regardless of technology)
Cisco – Certified Design Professional (CCDP)
Cisco – CCIE
Juniper – JNCIP-ENT
Juniper – JNCIS-ENT
Juniper – JNCIE
Brocade Professional IP Adminisrator 2016 (BPIPA)
Exam Code: HPE6-A44
Upgrade from HP ASE – FlexNetwork Architect V2 or HP ASE – FlexNetwork Integrator V1
You must have:
HP ASE – FlexNetwork Architect V2
HP ASE – FlexNetwork Integrator V1
Exam Code: HPE6-A46
Empfohlenes Training
Tests
Rezertifizierung
The Aruba Certified Switching Professional (ACSP) certification is valid for three years from date achieved.
To recertify, you must pass one of the following exams before the expiration date:
Pass the current exam on PearsonVUE
Pass the Aruba Certified Switching Expert written exam on PearsonVUE (available 2020)
If qualified, pass the Aruba Edge professional exam
Achieving or recertifying the certification automatically extends active ACSA certifications to the point of expiration from the date the ACSP was last achieved.
Upgrade Paths
Upgrade paths are available for Cisco certified individuals with a CCNP- Routing and Switching certification. CCNP- Routing and Switching certification holders can bypass the ACSA prerequisite and go straight to the ACSP exam.