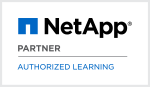 Protecting SQL Server (PROTSQL)
Zielgruppe
NetApp and NetApp Partner Professional Services
Systems Engineers
NetApp Customers
Voraussetzungen
!

NA-CDOTDP9
SnapCenter Fundamentals WBT
Kursziele
In this course, you will learn the following:
Describe the features of the Microsoft SQL Server Plug-in
List the workflow for using SnapCenter software to protect Microsoft SQL Server databases
Explain how SnapCenter software uses NetApp technology to protect SQL Server databases
Illustrate the recommended NetApp storage layouts to support SQL Server data
Describe data protection strategies for SQL Server databases by using SnapCenter software
Demonstrate how to configure and perform SQL Server database backups by using SnapCenter software
Demonstrate SQL Server database restores that use SnapCenter software
Describe cloning strategies that use SnapCenter software and NetApp technology
Build alerting and reporting operations for Plug-in for SQL Server
Kursinhalt
This course covers the deployment of the SnapCenter Plug-in for Microsoft SQL Server. In this course, you learn about the features of the plug-in and how to install and perform initial configuration of the plug-in. You learn how to protect, clone, and restore Microsoft SQL Server databases by using SnapCenter software. Through instructor-led presentations, you gain knowledge about these topics. Hands-on exercises provide you with experience in performing these tasks.
Classroom Training
Dauer 2 Tage
Preis
(exkl. MwSt.)
Deutschland:

1.800,- €

Schweiz:

1.980,- €




NetApp Training Units:

24 NTU
inkl. Verpflegung
Digitale Kursunterlagen
Sprache der Kursunterlagen: englisch
Zum Buchen bitte auf den Ortsnamen klicken
Kurstermine
Dies ist ein Instructor-led Online Training, das über WebEx in einer VoIP Umgebung durchgeführt wird. Sollten Sie Fragen zu einem unserer Online-Kurse haben, können Sie uns jederzeit unter +49 (0)40 25334610 oder per E-Mail an info@flane.de kontaktieren.
Dies ist ein
FLEX
™-Kurs. Sie können an einem
FLEX
Training sowohl bei uns vor Ort im Klassenraum als auch über das Internet von Ihrem Arbeitsplatz oder von zu Hause aus teilnehmen.
Deutschland
FLEX™ Training
Please see below our alternative, English language, FLEX™ course option
02.07. ― 03.07.2020
FLEX™ Training
Dies ist ein FLEX™-Kurs in englisch.


Zeitzone: Europe/London
25.08. ― 26.08.2020
FLEX™ Training
Dies ist ein FLEX™-Kurs in englisch.


Zeitzone: Europe/London
Europa
Grossbritannien
02.07. ― 03.07.2020
FLEX™ Training
Dies ist ein FLEX™-Kurs in englisch.


Zeitzone: Europe/London
25.08. ― 26.08.2020
FLEX™ Training
Dies ist ein FLEX™-Kurs in englisch.


Zeitzone: Europe/London
Nordamerika
USA
02.04. ― 03.04.2020
Online Training
Zeitzone: US/Central
Kurssprache:

englisch
08.10. ― 09.10.2020
Online Training
Zeitzone: US/Central
Kurssprache:

englisch