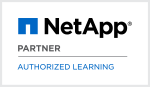 ONTAP 9 Data Protection Administration (DATAPROT9)
Im Kurspreis ist ein Voucher für ein NetApp Examen Ihrer Wahl enthalten.
Zielgruppe
Network Engineers
Channel Partners
System Engineers
Zertifizierungen
Empfohlenes Training für die Zertifizierung zum:
Voraussetzungen
Kursziele
Describe NetApp protection technology and the NetApp integrated data-protection solutions that are supported in ONTAP 9
Design, implement, and manage ONTAP 9 SnapMirror replication
Perform storage virtual machine disaster recovery setup and operation
Design, implement, and manage ONTAP 9 SnapVault replication
Use the OnCommand System Manager to set up and manage backup and restore operations
Describe how SyncMirror software can be used to protect data at the aggregate level
Describe how to implement the NDMP protocol in ONTAP 9 software
Kursinhalt
This course was designed to teach the core technologies of ONTAP 9.0 Data protection. You will learn how to implement and manage SnapMirror, SnapVault, SnapLock, SMV DR and NDMP technologies which are used to replicate and restore mission-critical data in the enterprise. The course also surveys real-world scenarios and use cases to teach you when to use each of the NetApp protection solutions. Backup and restore operations are taught using the command line and OnCommand System Manager. This course also provides an overview of the ONTAP 9.0 MetroCluster HA and disaster recovery software solution.
Zum Buchen bitte auf den Ortsnamen klicken
Kurstermine
Fast Lane wird alle garantierten Termine unabhängig von der Teilnehmerzahl durchführen. Ausgenommen sind höhere Gewalt oder andere unvorhersehbare Ereignisse (wie z.B. Unfall, Krankheit des Trainers), die eine Kursdurchführung unmöglich machen.
Mit der nächsten Buchung wird dieser Termin zu einem Garantietermin.
Dies ist ein Instructor-led Online Training, das über WebEx in einer VoIP Umgebung durchgeführt wird. Sollten Sie Fragen zu einem unserer Online-Kurse haben, können Sie uns jederzeit unter +49 (0)40 25334610 oder per E-Mail an info@flane.de kontaktieren.
Dies ist ein
FLEX
™-Kurs. Sie können an einem
FLEX
Training sowohl bei uns vor Ort im Klassenraum als auch über das Internet von Ihrem Arbeitsplatz oder von zu Hause aus teilnehmen.
Europa
Belgien
Frankreich
Grossbritannien
Italien
Slovakei
Slovenien
Lateinamerika
Brasilien
14.06. - 15.06.2018
Online Training
Zeitzone: America/Sao_Paulo
Kurssprache: portugiesisch
13.09. - 14.09.2018
Online Training
Zeitzone: America/Sao_Paulo
Kurssprache: portugiesisch
08.11. - 09.11.2018
Online Training
Zeitzone: America/Sao_Paulo
Kurssprache: portugiesisch
Chile
12.07. - 13.07.2018
Online Training
Zeitzone: America/Santiago
Kurssprache: spanisch
06.09. - 07.09.2018
Online Training
Zeitzone: America/Santiago
Kurssprache: spanisch
08.11. - 09.11.2018
Online Training
Zeitzone: America/Santiago
Kurssprache: spanisch
Kolumbien