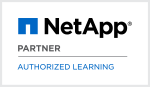 Administration of OnCommand Unified Manager and Integrated Solutions (AOCMCDOT)
Zielgruppe
NetApp employees or NetApp partners who are support engineers, Professional Services workers, or Customer Support Services workers
Kursziele
Install and maintain an OnCommand Unified Manager deployment
Migrate an OnCommand Performance Manager 7.1 database to Unified Manager 7.2
Use Unified Manager to monitor the health and performance of your storage infrastructure
Categorize storage objects and implement annotation and group features
Configure thresholds, event retention settings, and alerts, so that storage issues can be anticipated and quickly identified
Explore reporting tools and run pre-configured reports
Export data to a comma-separated-values (CSV) file to track historical trends
Pair Unified Manager with OnCommand Workflow Automation (WFA) to manage protection relationships and storage objects in the storage infrastructure
Weiterführende Kurse
Kursinhalt
Administration of OnCommand Unified Manager and Integrated Solutions (AOCMCDOT) is a 2 day instructor led course that demonstrates through brief lectures, exercises, and classroom discussion how to deploy and maintain an integrated OnCommand Unified Manager and pair it with OnCommand Workflow Automation (WFA) data-management solution. You learn how the performance-management features of Unified Manager provide a unified approach to storage management that reduces complexity. You also learn to how to extend Unified Manager's data protection capabilities with WFA.
Classroom Training
Dauer 2 Tage
Preis
(exkl. MwSt.)
Deutschland:

1.800,- €

Schweiz:

CHF 1.980,-




NetApp Training Units:

24 NTU
inkl. Verpflegung
Digitale Kursunterlagen
Sprache der Kursunterlagen: englisch
Zum Buchen bitte auf den Ortsnamen klicken
Kurstermine
Fast Lane wird alle garantierten Termine unabhängig von der Teilnehmerzahl durchführen. Ausgenommen sind höhere Gewalt oder andere unvorhersehbare Ereignisse (wie z.B. Unfall, Krankheit des Trainers), die eine Kursdurchführung unmöglich machen.
Dies ist ein Instructor-led Online Training, das über WebEx in einer VoIP Umgebung durchgeführt wird. Sollten Sie Fragen zu einem unserer Online-Kurse haben, können Sie uns jederzeit unter +49 (0)40 25334610 oder per E-Mail an info@flane.de kontaktieren.
Dies ist ein
FLEX
™-Kurs. Sie können an einem
FLEX
Training sowohl bei uns vor Ort im Klassenraum als auch über das Internet von Ihrem Arbeitsplatz oder von zu Hause aus teilnehmen.
Deutschland
Internationale Garantietermine
FLEX™ Training
Please see below our alternative, English language, FLEX™ course option
Schweiz
Nordamerika
USA
18.02. - 19.02.2020
Online Training
Zeitzone: US/Pacific
Kurssprache:

englisch
14.04. - 15.04.2020
Online Training
Zeitzone: US/Central
Kurssprache:

englisch
02.06. - 03.06.2020
Online Training
Zeitzone: US/Eastern
Kurssprache:

englisch
08.09. - 09.09.2020
Online Training
Zeitzone: US/Pacific
Kurssprache:

englisch
13.10. - 14.10.2020
Online Training
Zeitzone: US/Eastern
Kurssprache:

englisch
14.12. - 15.12.2020
Online Training
Zeitzone: US/Central
Kurssprache:

englisch
Asien & Pazifik
Australien
16.12. - 17.12.2019
FLEX™ Training
Dies ist ein FLEX™-Kurs in englisch.


Zeitzone: Australia/Melbourne