Neuer Cisco 2015 Award für Fast Lane
Cisco ernennt Fast Lane zum Learning Partner of the Year RCIS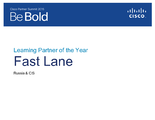 May 2015 - Fast Lane is proud to announce that they were the recipient of the Cisco Partner Summit theater award for Learning Partner of the Year in Russia and CIS region. Cisco unveiled the award at its annual worldwide channel partner conference held on April 27th – 30th 2015 in Montreal, Canada.
Fast Lane was chosen from a select group of Cisco Learning Partners within the RCIS region for our excellent business performance, outstanding achievements, exceptional service and expertise. Focused on sales enablement and architecture training, Fast Lane has always valued their close working relationship with Cisco and has been delivering a host of learning solutions that help partners articulate the benefits of Cisco's technology and solutions and align these with their client's business objectives.
AddThis buttons
Über Fast Lane
Die weltweite Fast Lane-Gruppe ist Spezialist für Technologie- und Business-Training und Beratung im Highend-Bereich. Fast Lane ist autorisierter Trainingspartner von Cisco, Microsoft, AWS, NetApp, VMware, Google, Barracuda, Red Hat, Palo Alto Networks, Oracle, Aruba, Fortinet, SUSE, Arista, Ruckus, Symantec, Veritas und weiteren führenden Herstellern und bietet zudem eigene IT-Trainingsprogramme zu aktuellen Technologien und den wesentlichen Trends an. Herstellerübergreifende Beratungsleistungen reichen von vorbereitenden Analysen und Evaluierungen über die Konzipierung zukunftsweisender IT-Lösungen bis zum Projektmanagement und zur Umsetzung der Konzepte im Unternehmen. Training-on-the-Job und Weiterqualifizierung der zuständigen Spezialisten bei den Kunden verbinden die Kernbereiche der Fast Lane Dienstleistungen Training und Consulting.
Weitere Informationen:
Fast Lane Institute for Knowledge Transfer GmbH
Gasstraße 4a, D-22761 Hamburg
Ansprechpartner:
Barbara Jansen
bjansen@flane.de
Tel. +49 40 253346-10
www.flane.de