New Cisco 2015 Award for Fast Lane
Cisco Awards Fast Lane Learning Partner of the Year RCIS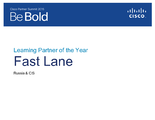 May 2015 - Fast Lane is proud to announce that they were the recipient of the Cisco Partner Summit theater award for Learning Partner of the Year in Russia and CIS region. Cisco unveiled the award at its annual worldwide channel partner conference held on April 27th – 30th 2015 in Montreal, Canada.
Fast Lane was chosen from a select group of Cisco Learning Partners within the RCIS region for our excellent business performance, outstanding achievements, exceptional service and expertise. Focused on sales enablement and architecture training, Fast Lane has always valued their close working relationship with Cisco and has been delivering a host of learning solutions that help partners articulate the benefits of Cisco's technology and solutions and align these with their client's business objectives.
AddThis buttons
About Fast Lane
Fast Lane is a global, award-winning specialist in technology and business training as well as consulting services for digital transformation. As the only global partner of the three cloud hyperscalers- Microsoft, AWS and Google- and partner of 30 other leading IT vendors including Cisco, Aruba, VMware, NetApp, Palo Alto Networks, Red Hat and others, Fast Lane offers qualification solutions and professional services that can be scaled as needed. More than 4,000 experienced Fast Lane professionals train and advise customers in organizations of all sizes in 90 countries worldwide in the areas of cloud, artificial intelligence, cyber security, software development, wireless and mobility, modern workplace, as well as IT and project management.
Additional information:
Fast Lane Institute for Knowledge Transfer GmbH
Gasstrasse 4a, D-22761 Hamburg
Contact:
Barbara Jansen
bjansen@flane.de
Tel. +49 40 253346-10
www.flane.de