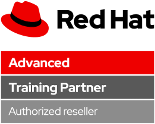 Red Hat High Availability Clustering with Expertise Exam (RH437)
Kursüberblick
Red Hat® High Availability Clustering with Exam (RH437) bietet intensive praktische Erfahrungen mit der Pacemaker Komponente des Red Hat Enterprise Linux High-Availability Add-Ons sowie den Cluster Storage-Komponenten des Resilient Storage Add-Ons, darunter Cluster Logical Volume Manager (CLVM), Red Hat Global File System 2 (GFS2) und Device-Mapper Multipath.
Dieser Kurs basiert auf Red Hat Enterprise Linux 7.1 und integriert das Red Hat Certified Specialist in Clustering and Storage Management Exam (EX436).
Zielgruppe
Linux Senior-Systemadministratoren, die für die Maximierung der Flexibilität durch hochverfügbare Cluster-Services verantwortlich sind, und sich dabei fehlertoleranter Technologien für gemeinsam genutzten Speicher bedienen
Zertifizierungen
Empfohlenes Training für die Zertifizierung zum:
Voraussetzungen
Wenn Sie diesen Kurs ohne die Prüfung (RH436) belegen möchten und noch keine RHCE®-Zertifizierung besitzen, können Sie den Besitz der notwendigen Kenntnisse durch Bestehen des Online-Einstufungstests nachweisen.
Kursziele
Auswirkungen auf die Organisation
In diesem Kurs erlernen Sie die Fertigkeiten für die Erstellung hochverfügbarer, zuverlässigerer geschäftskritischer Anwendungen, die Ausfallzeiten verringern und die Hardware-Wartung vereinfachen sollten.
Red Hat hat diesen Kurs in erster Linie für seine Kunden entwickelt. Da aber jedes Unternehmen, jede Infrastruktur anders ist, kann es sein, dass die gezeitigten Vorteile von Fall zu Fall variieren.
Auswirkungen auf den Einzelnen
Die Kursteilnehmer sollten in der Lage sein, hochverfügbare Netzwerkdienste sowie eng gekoppelte Cluster-Storage für geschäftskritische Anwendungen zu erstellen, zu verwalten und zu reparieren.
Die Teilnehmer sollten in der Lage sein, die folgenden Aufgaben auszuführen:
Steigerung der Anwendungsverfügbarkeit mit Hochverfügbarkeits-Clustering
Storage-Verwaltung in einer Hochverfügbarkeitsumgebung mit iSCSI Initiatoren, HA-LVM oder CLVM wie zutreffend und GFS2 Cluster-Dateisystemen
Implementierung von Strategien zur Identifizierung von Single Points of Failure in Hochverfügbarkeits-Clustern sowie ihre Eliminierung
Weiterführende Kurse
Kursinhalt
Dieser viertägige Kurs ist für Senior-Linux®-Systemadministratoren konzipiert und konzentriert sich insbesondere auf praktische Übungen. Sie lernen in diesem Kurs die Bereitstellung von gemeinsam verwendetem Speicher und Server-Clustern, die hochverfügbare Netzwerkservices in geschäftskritischen Unternehmensumgebungen bieten.
Mit diesem Kurs können Sie sich außerdem auf das Red Hat Certified Specialist in High Availability Clustering Exam (EX436) vorbereiten. In dieser Version des Kurses ist die Prüfung enthalten.
Übersicht über den Kursinhalt
Installation und Konfiguration eines Pacemaker-basierten Hochverfügbarkeitsclusters
Erstellen und Verwalten hochverfügbarer Services
Behebung üblicher Cluster-Probleme
Arbeiten mit gemeinsam verwendetem Speicher (iSCSI) und Konfigurieren von Multipathing
Konfigurieren des GFS2-Dateisystems
Online Training
Dauer 5 Tage
Classroom Training
Dauer 5 Tage
Preis
(exkl. MwSt.)
Deutschland:

3.681,– €

Schweiz:

3.681,– €
Derzeit gibt es keine Trainingstermine für diesen Kurs.