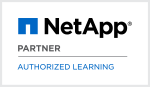 ONTAP NFS Administration (NFSAD)
Who should attend
Professionals who implement NFS solutions who use NetApp storage systems
Prerequisites
Familiarity with UNIX and Linux operating systems
Course Objectives
This course focuses on enabling you to do the following:
Explain the differences between the NFS protocol and SAN protocols
List NAS namespace architectures and namespaces
Summarize client access to NFS data in ONTAP software
List the NFS enhancements for different releases of ONTAP software
Describe the implementation of NFSv3 on NetApp storage
Describe the implementation of NFSv4 on NetApp storage
Demonstrate a multiprotocol configuration that supports SMB and NFS access
Illustrate techniques for collecting NFS statistics and data
Online Training
Dauer 1 Tag
Preis
(exkl. MwSt.)
900,- €

NetApp Training Units:

12 NTU
Digitale Kursunterlagen
Sprache der Kursunterlagen: Englisch
Kurstermine
FLEX Classroom Training
(
Hybrid-Kurs
): Kursteilnahme wahlweise vor Ort im Klassenraum oder online vom Arbeitsplatz oder von zu Hause aus.
Deutschland
FLEX & Online Training
Weiter unten finden Sie alternativ unsere Kurse mit FLEX-Option in englischer Sprache
Österreich