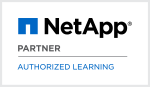 ONTAP NFS Administration (NFSAD)
Who should attend
Professionals who implement NFS solutions who use NetApp storage systems
Prerequisites
Familiarity with UNIX and Linux operating systems
Course Objectives
Cluster Administration course. This course reviews NFS and explores in more detail different NFS versions and the features of ONTAP 9 software that support the NFS protocol. The exercises are accomplished using ONTAP 9 software.
This course focuses on enabling you to do the following:
Define and describe NFS protocol versions
Configure clustered ONTAP 9 for NFSv3,NFSv4,and NFSv4.1 with parallel NFS (pNFS)
Configure Kerberos in a Linux and NetApp ONTAP 9 environment using Windows Active Directory authentication
Discuss performance management and troubleshooting for Netapp storage systems and clients
Course Content
Module 1: NFS Overview
Define NFS Protocol
List and differentiate between the versions of NFS
Discuss how ONTAP support NFS deployments
  Module 2: NFS v3
Describe NFS v3
Configure NFSv3 on Data ONTAP
Describe how security works in NFS v3
  Module 3: NFS v4
Describe NFS v4
Configure NFSv4 on Data ONTAP
Describe how security works in NFS v4
Module 4: NFS v4.1
Describe NFS v4.1
Configure NFS v4.1 on ONTAP 9
Module 5: NFS Monitoring and Troubleshooting
Discuss performance monitoring techniques for storage and clients
Describe basic NFS troubleshooting
List locations of Export Rule Evaluation Errors
Online Training
Dauer 1 Tag
Preis
(exkl. MwSt.)
900,- €

NetApp Training Units:

12 NTU
Digitale Kursunterlagen
Sprache der Kursunterlagen: Englisch
Kurstermine
Mit der nächsten Buchung wird dieser Termin zu einem Garantietermin.
FLEX Classroom Training
(
Hybrid-Kurs
): Kursteilnahme wahlweise vor Ort im Klassenraum oder online vom Arbeitsplatz oder von zu Hause aus.