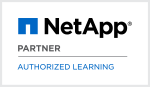 ONTAP MetroCluster Installation (MCCIIW)
Zielgruppe
NetApp customers, partners, and employees
Voraussetzungen
ONTAP 9 Cluster Administration and Data Protection Bundle (CDOTDP9)
Basic SAN knowledge
Kursziele
By the end of this course, you should be able to:
Describe the major architectural components of a MetroCluster environment in ONTAP 9
Cable nodes, back-end FC switches and FibreBridge devices
Set up bridges and back-end FC switches
Configure the clusters at both sites in a MetroCluster environment
Set up a MetroCluster configuration and serve data to clients
Detect and recover from failures in a MetroCluster environment
Install and configure Tiebreaker software
Kursinhalt
MetroCluster software is a unique high-availability and disaster-recovery solution. This is an advanced course where you will learn how to install, configure and administer a MetroCluster environment. Hands-on labs, available in the ONTAP 9 environment, allow you to practice setting up the configuration, identify component failures and practice recovery steps.
Zum Buchen bitte auf den Ortsnamen klicken
Kurstermine
Fast Lane wird alle garantierten Termine unabhängig von der Teilnehmerzahl durchführen. Ausgenommen sind höhere Gewalt oder andere unvorhersehbare Ereignisse (wie z.B. Unfall, Krankheit des Trainers), die eine Kursdurchführung unmöglich machen.
Dies ist ein Instructor-led Online Training, das über WebEx in einer VoIP Umgebung durchgeführt wird. Sollten Sie Fragen zu einem unserer Online-Kurse haben, können Sie uns jederzeit unter +49 (0)40 25334610 oder per E-Mail an info@flane.de kontaktieren.