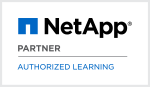 ONTAP SMB Administration (CIFSAD)
Zielgruppe
Professionals who implement SMB solutions who use NetApp storage systems
Voraussetzungen
Familiarity with Microsoft Windows Server 2012
Familiarity with Microsoft Active Directory
Kursziele
This course extends the CIFS information that is found in the ONTAP Cluster Administration course. This course reviews SMB and explores in more detail SMB 3.x and the features of ONTAP 9 software that support the SMB protocol. The exercises are accomplished using ONTAP 9 software.
This course focuses on enabling you to do the following:
Explain the CIFS and SMB protocol
Demonstrate the Windows PowerShell CLI
Configure SMB features using ONTAP 9 software
Create and manage SMB shares and sessions
Secure SMB sessions
Configure ONTAP for multiprotocol data access
Discuss SMB advanced topics, such as opportunistic locks (oplocks), BranchCache, auditing, group policy, automatic home shares, symbolic links (symlinks), and widelinks
Kursinhalt
Module 1: CIFS Overview
Define the CIFS and SMB protocol
Discuss NTLM and Kerberos authentication
Explain Active Directory and Workgroup environments
Describe PowerShell
Describe Data ONTAP PowerShell Toolkit
Module 2: SMB Setup
Set up a storage system with ONTAP 9 for domain authentication
Module 3: Shares and Sessions
List the default shares
Display all shares that are available on the storage system
Configure a client machine to access a share
Identify the CIFS sessions
Add, modify, and delete shares
Module 4: Access Control
Module Objectives
Configure share permissions
Describe how to map UNIX users to Windows users
Configure multiprotocol in ONTAP 9
Describe authentication and authorization for CIFS
Describe file blocking policies
Module 5: CIFS Advanced Topics
Module Objectives
Describe group policy objects in Data ONTAP 9
Setup preferred Domain Controllers
Discuss NetBIOS aliases
Configure workgroup membership
Explain CIFS oplocks
Discuss BranchCache support in Data ONTAP
Online Training
Dauer 1 Tag
Preis
(exkl. MwSt.)
Deutschland:

900,- €

Schweiz:

CHF 990,-




NetApp Training Units:

12 NTU
Digitale Kursunterlagen
Sprache der Kursunterlagen: englisch
Zum Buchen bitte auf den Ortsnamen klicken
Kurstermine
Fast Lane wird alle garantierten Termine unabhängig von der Teilnehmerzahl durchführen. Ausgenommen sind höhere Gewalt oder andere unvorhersehbare Ereignisse (wie z.B. Unfall, Krankheit des Trainers), die eine Kursdurchführung unmöglich machen.
Mit der nächsten Buchung wird dieser Termin zu einem Garantietermin.
Dies ist ein Instructor-led Online Training, das über WebEx in einer VoIP Umgebung durchgeführt wird. Sollten Sie Fragen zu einem unserer Online-Kurse haben, können Sie uns jederzeit unter +49 (0)40 25334610 oder per E-Mail an info@flane.de kontaktieren.
Dies ist ein
FLEX
™-Kurs. Alle
FLEX
™-Kurse sind auch Instructor-Led Online Trainings (ILO). Sie können an einem
FLEX
™-Training sowohl bei uns vor Ort im Klassenraum als auch über das Internet (ILO) von Ihrem Arbeitsplatz oder von zu Hause aus teilnehmen.
Nordamerika
USA
18.05.2020
Online Training
Zeitzone: US/Eastern
Kurssprache:

englisch
Garantietermin!
10.08.2020
Online Training
Dies ist ein FLEX™-Kurs in englisch.


Zeitzone: US/Eastern
26.10.2020
Online Training
Dies ist ein FLEX™-Kurs in englisch.


Zeitzone: US/Eastern