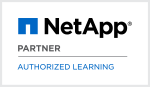 ONTAP SMB Administration (CIFSAD)
Course Overview
This course extends the CIFS information that is found in the ONTAP Cluster Administration course. This course reviews SMB and explores in more detail SMB 3.x and the features of ONTAP 9 software that support the SMB protocol. The exercises are accomplished using ONTAP 9 software.
Who should attend
Professionals who implement SMB solutions who use NetApp storage systems
Prerequisites
Familiarity with Microsoft Windows Server 2012
Familiarity with Microsoft Active Directory
Course Objectives
This course focuses on enabling you to do the following:
Explain the CIFS and SMB protocol
Demonstrate the Windows PowerShell CLI
Configure SMB features using ONTAP 9 software
Create and manage SMB shares and sessions
Secure SMB sessions
Configure ONTAP for multiprotocol data access
Discuss SMB advanced topics, such as opportunistic locks (oplocks), BranchCache, auditing, group policy, automatic home shares, symbolic links (symlinks), and widelinks
Online Training
Dauer 1 Tag
Preis
(exkl. MwSt.)
900,– €

NetApp Training Units:

12 NTU
Digitale Kursunterlagen
Sprache der Kursunterlagen: Englisch
Classroom Training
Dauer 1 Tag
Preis
(exkl. MwSt.)
Deutschland:

900,– €

Schweiz:

CHF 1.170,–

NetApp Training Units:

12 NTU
inkl. Verpflegung
Verpflegung umfasst:
Kaffee, Tee, Saft, Wasser, Cola
Gebäck und Süßigkeiten
Frisches Obst
Mittagessen in einem der naheliegenden Restaurants
Gilt nur bei Durchführung durch Fast Lane. Termine, die von unseren Partnern durchgeführt werden, beinhalten ggf. ein abweichendes Verpflegungsangebot.
Digitale Kursunterlagen
Sprache der Kursunterlagen: Englisch
Kurstermine