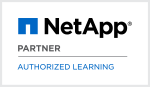 VMware vSphere on NetApp (VVNA)
Zielgruppe
Data Center Operations Professionals
Cloud Infrastructure Architects
Cloud Administrators
Cloud Engineers
Storage Administrators
Voraussetzungen
System administration experience managing either the Linux or Microsoft Windows operating system
Completion of the VMware vSphere: Install, Configure, Manage

(VICM)

or equivalent experience.
Completion of the

!

NA-D8CADM or equivalent experience.
Kursziele
Deploy a virtualized infrastructure using NetApp storage based on the feature integration that exists with VMware vSphere and NetApp ONTAP
Show a firm and practical knowledge of VMware services, protocols and connectivity options
Utilize NetApp vCenter plug-ins to ensure proper functionality and performance for virtual machines
Utilize NetApp Virtual Storage Console (VSC) to automate the backup, provisioning, machine cloning and host optimization configuration
Perform host monitoring on ESXi hosts and NetApp storage through a single-pane-of-glass. Optimize virtual machine performance and correct virtual disk misalignment.
Optimize NetApp Storage system connectivity, performance and reliability using Fibre Channel Protocol (FCP), FCoE, iSCSI, and NFS protocols.
Implement multi-tenancy through the use of vFilers or Vservers
Configure storage from the vSphere CLI or GUI in NetApp clustered ONTAP
Install and configure NetApp vSphere plug-ins and utilize the features
Perform data storage networking for both iSCSI and NFS datastores
Manage virtual machine snapshots at both the virtualization and storage layers
Implement high availability and disaster recovery features
Kursinhalt
Managing a vSphere storage virtualization environment requires knowledge of the features that exist between VMware and NetApp to handle large data workloads. The VMware vSphere on NetApp training provides in-depth use of best practices to improve storage resource utilization, simplify operating system maintenance irrespective of the storage topology, data center operations simplification, and optimal use of your NetApp storage. The course covers the management of any cloud infrastructure using Clustered Data ONTAP 8.3 and the VMware vSphere 6.0 virtualization and management suite.

This hands-on 5-day class with hands on labs immerses you into the virtual machine management and storage operations spanning NetApp Data ONTAP, VMware ESXi with vCenter management. You will get a hands-on experience using the vCenter NetApp plug-in, the Virtual Storage Console (VSC), configuring and monitoring the VMware host settings, performing backups, restoration, and virtual machine cloning operations.
Zum Buchen bitte auf den Ortsnamen klicken
Kurstermine
Fast Lane wird alle garantierten Termine unabhängig von der Teilnehmerzahl durchführen. Ausgenommen sind höhere Gewalt oder andere unvorhersehbare Ereignisse (wie z.B. Unfall, Krankheit des Trainers), die eine Kursdurchführung unmöglich machen.
Mit der nächsten Buchung wird dieser Termin zu einem Garantietermin.
Dies ist ein Instructor-led Online Training, das über WebEx in einer VoIP Umgebung durchgeführt wird. Sollten Sie Fragen zu einem unserer Online-Kurse haben, können Sie uns jederzeit unter +49 (0)40 25334610 oder per E-Mail an info@flane.de kontaktieren.
Dies ist ein
FLEX
™-Kurs. Sie können an einem
FLEX
Training sowohl bei uns vor Ort im Klassenraum als auch über das Internet von Ihrem Arbeitsplatz oder von zu Hause aus teilnehmen.
Nordamerika
USA
29.07. - 02.08.2019
Online Training
Zeitzone: US/Central
Kurssprache: englisch
23.09. - 27.09.2019
Online Training
Zeitzone: US/Eastern
Kurssprache: englisch
18.11. - 22.11.2019
Online Training
Zeitzone: US/Pacific
Kurssprache: englisch
Kanada
08.04. - 12.04.2019
Online Training
Zeitzone: Canada/Eastern
Kurssprache: englisch
29.07. - 02.08.2019
Online Training
Zeitzone: Canada/Central
Kurssprache: englisch
18.11. - 22.11.2019
Online Training
Zeitzone: Canada/Pacific
Kurssprache: englisch