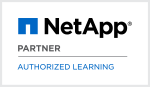 VMware vSphere on NetApp (VVNA)
Kursüberblick
In this course you will learn different methods to implement VMware vSphere 6.7u2 on NetApp ONTAP 9.6. The course provides a quick update on the current ONTAP and VMware versions, introduce the current tools to manage a VMware virtual infrastructure (VSC 9.6) and describe and provide practical exercises to provision datastores and storage for guest VMs with various protocols. It also points administrators to methods to back up their virtual infrastructure according to best practices and discusses methods and tools to manage and monitor for health and performance.
Zielgruppe
Data Center Operations Professionals
Cloud Infrastructure Architects
Cloud Administrators
Cloud Engineers
Storage Administrators
Kursziele
Discuss ONTAP Architecture and current Hardware
Describe vSphere Updates in 6.5 & 6.7
Discuss and install NetApp Tools and interfaces for VMware vSphere
Use Application Granular Data Management (AppDM)
Discuss NFS datastore deployment Best Practices
Discuss VMFS datastores

Discuss iSCSI datastore deployment Best Practices
Describe FCP datastore deployment Best Practices

Implement Storage Policy Based Management (SPBM)
Discuss VVol datastore deployment Best Practices
Implement Data Storage strategies for Guest VMs
Discuss Security and Performance considerations in a Multi-tenant environment
Implement High Availability and Data Protection Strategies in a virtual environment
Maximize utilization of your storage assets using built-in efficiency features
Kursinhalt
ONTAP Review and What's New
VMware Review and What's New
NetApp Tools for VMware
NAS Datastores, Classic: Networking & NFS
SAN Datastores, Classic: VMFS
Datastores, Modern: SPBM & VVols
Data Storage for VM Guests
Data Availability, VMware
NetApp Data Availability
Classroom Training
Dauer 5 Tage
Preis
(exkl. MwSt.)
Deutschland:

4.500,- €

Schweiz:

CHF 4.950,-




NetApp Training Units:

60 NTU
inkl. Verpflegung
Digitale Kursunterlagen
Sprache der Kursunterlagen: englisch
Zum Buchen bitte auf den Ortsnamen klicken
Kurstermine
Mit der nächsten Buchung wird dieser Termin zu einem Garantietermin.
Dies ist ein Instructor-led Online Training, das über WebEx in einer VoIP Umgebung durchgeführt wird. Sollten Sie Fragen zu einem unserer Online-Kurse haben, können Sie uns jederzeit unter +49 (0)40 25334610 oder per E-Mail an info@flane.de kontaktieren.
Dies ist ein
FLEX
™-Kurs. Sie können an einem
FLEX
Training sowohl bei uns vor Ort im Klassenraum als auch über das Internet von Ihrem Arbeitsplatz oder von zu Hause aus teilnehmen.
Nordamerika
USA
27.01. - 31.01.2020
Online Training
Zeitzone: US/Central
Kurssprache:

englisch
30.03. - 03.04.2020
Online Training
Zeitzone: US/Eastern
Kurssprache:

englisch
08.06. - 12.06.2020
Online Training
Zeitzone: US/Pacific
Kurssprache:

englisch
03.08. - 07.08.2020
Online Training
Zeitzone: US/Central
Kurssprache:

englisch
28.09. - 02.10.2020
Online Training
Zeitzone: US/Eastern
Kurssprache:

englisch
16.11. - 20.11.2020
Online Training
Zeitzone: US/Pacific
Kurssprache:

englisch