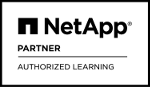 VMware vSphere on NetApp (VVNA)
Course Overview
In this course you will learn different methods to implement VMware vSphere 6.7u2 on NetApp ONTAP 9.6. The course provides a quick update on the current ONTAP and VMware versions, introduce the current tools to manage a VMware virtual infrastructure (VSC 9.6) and describe and provide practical exercises to provision datastores and storage for guest VMs with various protocols. It also points administrators to methods to back up their virtual infrastructure according to best practices and discusses methods and tools to manage and monitor for health and performance.
Who should attend
Data Center Operations Professionals
Cloud Infrastructure Architects
Cloud Administrators
Cloud Engineers
Storage Administrators
Course Objectives
Discuss ONTAP Architecture and current Hardware
Describe vSphere Updates in 6.5 & 6.7
Discuss and install NetApp Tools and interfaces for VMware vSphere
Use Application Granular Data Management (AppDM)
Discuss NFS datastore deployment Best Practices
Discuss VMFS datastores

Discuss iSCSI datastore deployment Best Practices
Describe FCP datastore deployment Best Practices

Implement Storage Policy Based Management (SPBM)
Discuss VVol datastore deployment Best Practices
Implement Data Storage strategies for Guest VMs
Discuss Security and Performance considerations in a Multi-tenant environment
Implement High Availability and Data Protection Strategies in a virtual environment
Maximize utilization of your storage assets using built-in efficiency features
Course Content
ONTAP Review and What's New
VMware Review and What's New
NetApp Tools for VMware
NAS Datastores, Classic: Networking & NFS
SAN Datastores, Classic: VMFS
Datastores, Modern: SPBM & VVols
Data Storage for VM Guests
Data Availability, VMware
NetApp Data Availability
Online Training
Duration 5 days
Price
(excl. tax)
4,500.— €

NetApp Training Units:

60 NTU
Digital courseware
Courseware language: English
Classroom Training
Duration 5 days
Price
(excl. tax)
Germany:

4,500.— €

Switzerland:

CHF 5,850.—

NetApp Training Units:

60 NTU
incl. catering
Catering includes:
Coffee, Tea, Juice, Water, Soft drinks
Pastry and Sweets
Fresh fruits
Lunch in a nearby restaurant
* Catering information only valid for courses delivered by Fast Lane.
Digital courseware
Courseware language: English
Schedule
FLEX Classroom Training
(
hybrid course
): Course participation either on-site in the classroom or online from the workplace or from home.