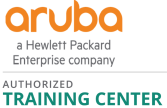 Aruba ClearPass Advanced Labs (CPA)
Kursüberblick
This course prepares participants who are familiar with ClearPass products to master their knowledge through a series of challenging lab exercises, under the guidance of an Aruba Instructor. In this course, participants are presented with customer case studies, and are required to design ClearPass services, and integrate network devices to meet the customer's requirements.
Zielgruppe
Ideal candidates are networking professionals who are familiar with ClearPass products, and are looking to master their ClearPass implementation skills across various Network Access Infrastructure Devices.
Kursziele
After you successfully complete this course, expect to be able to:
Understand ClearPass Policy Design
Perform Integration of NAD Deveices
Implementing Tailoring for Customer Requirements
Troubleshoot and Report
Documenting all work
Kursinhalt
Data and Management Port Configuration
Guest Authentication
Posture and OnGuard
SQL Basic Knowledge
External SQL Database
Cisco WLC Initial Setup
Instant vs Controller
Cisco Switch NAD
Cisco WLC vs Aruba Controller
Cisco Wired Guest
3rd Party MDM
ClearPass Cluster
ClearPass 6.3 to 6.4 update
ClearPass 6.4 to 6.5 Update
Zum Buchen bitte auf den Ortsnamen klicken
Kurstermine
Dies ist ein
FLEX
™-Kurs. Sie können an einem
FLEX
Training sowohl bei uns vor Ort im Klassenraum als auch über das Internet von Ihrem Arbeitsplatz oder von zu Hause aus teilnehmen.
Deutschland
Zur Zeit sind keine Termine verfügbar. Fragen Sie an via info@flane.de.
FLEX™ Training
Please see below our alternative, English language, FLEX™ course option
23.09. - 27.09.2019
FLEX™ Training
Dies ist ein FLEX™-Kurs in englisch.


Zeitzone: Europe/Budapest
3.186,- €
18.11. - 22.11.2019
FLEX™ Training
Dies ist ein FLEX™-Kurs in englisch.


Zeitzone: Europe/Sofia
3.186,- €
Europa
Bulgarien
18.11. - 22.11.2019
FLEX™ Training
Dies ist ein FLEX™-Kurs in englisch.


Zeitzone: Europe/Sofia
3.186,- €
Ungarn
23.09. - 27.09.2019
FLEX™ Training
Dies ist ein FLEX™-Kurs in englisch.


Zeitzone: Europe/Budapest
3.186,- €