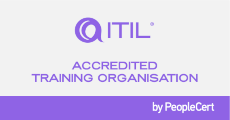 ITIL® 4 Foundation Premium (ITIL4F-P)
Dies ist der Premiumkurs. Den Standardkurs finden Sie hier: ITIL 4 Foundation (ITIL4F)
Der Premiumkurs hat folgende Vorteile:
Zusätzliche Praxisbeispiele
Ausführlichere Bearbeitung der Themen
Weiterführende Infos zu ITIL Foundation
Wiederholung der wesentlichen Themen
Dedizierte Prüfungsvorbereitung am 3. Tag
Who should attend
Alle, die an einem Grundverständnis des ITIL®-4-Rahmenwerks interessiert sind und Hinweise suchen, wie sie es zur Verbesserung der Qualität in "IT Service Management"-Organisationen einsetzen können
Betriebsverantwortliche, IT-Manager, IT-Leiter, IT-Berater, Geschäftsführer, Information Manager, Solution Architects, IT-Professionals und Business Manager
IT-Experten, die sich über die Möglichkeiten zur Service-Verbesserung informieren wollen, weil in ihrer Organisation ITIL® bereits eingesetzt wird
Certifications
This course is part of the following Certifications:
Prerequisites
Sie benötigen keine Vorkenntnisse, um an der ITIL4 Foundation teilnehmen zu können.
Alle notwendigen Inhalte werden Ihnen im Training vermittelt.
Course Objectives
Sie lernen im Verlauf unseres ITIL®-4-Foundation-Kurses die grundlegende Struktur des ITIL®-4-Rahmenwerkes kennen.
Während des Trainings eignen Sie sich den notwendigen Sprachgebrauch an und bereiten sich optimal auf die offizielle ITIL4-Foundation-Prüfung vor. Neben dem theoretischen Kern des ITIL®-4-Rahmenwerkes vermitteln wir Ihnen in unserer ITIL-Foundation-Schulung mit Hilfe praktischer Übungen auch die Wirkweise von ITIL 4 in der betrieblichen Praxis.
Die ITIL Foundation Prüfung überprüft das erlernte theoretische Fachwissen, damit Sie sich sicher in der IT Service Management Praxis bewegen und den weiteren Weg zum Managing Professional oder Leader erfolgreich meistern können.
Die ITIL4 Foundation von Fast Lane ist offiziell akkreditiert und entspricht den Anforderungen des Official Accreditor von ITIL (AXELOS). Dadurch haben Sie die Garantie, dass Ihnen alle entscheidenden Inhalte von ITIL vermittelt werden.
Course Content
Das Training besteht aus unterschiedlichen Inhalten und Aspekten, welche fließend ineinander übergehen. Das Training richtet sich nach dem offiziellen Syllabus. Grundsätzlich wird Ihnen die ITIL4-Theorie vermittelt und Sie bereiten sich auf die ITIL4-Foundation-Prüfung vor.
Grundkonzepte des Service Management
Grundkonzepte von ITIL4
Definitionen und Schlüsselbegriffe zu den ITIL Practices
Die 34 ITIL Practices sowie deren Einbindung in die Service Value Chain
Folgende Practices werden detaillierter betrachtet

Continual Improvement
Change Enablement
Incident Management
Problem Management
Service Request Management
Service Desk
Service Level Management

Prüfungsvorbereitung und -durchführung
Classroom Training
Duration 3 days
Price
(excl. tax)
Germany:

1,100.- €

Switzerland:

CHF 1,500.-
incl. catering
Catering includes:
Coffee, Tea, Juice, Water, Soft drinks
Pastry and Sweets
Fresh fruits
Lunch in a nearby restaurant
* Catering information only valid for courses delivered by Fast Lane.
Digital courseware
Courseware language: German
Schedule
German
Time zone Central European Summer Time (CEST)
Online Training
Time zone: Central European Summer Time (CEST)
Course language:

German
Online Training
Time zone: Central European Time (CET)
Course language:

German
Guaranteed date: The course is guaranteed to run regardless of the number of participants. This excludes unforeseeable events (e.g. accident, illness of the trainer) which make it impossible to carry out the course.