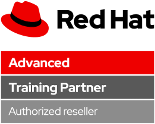 Red Hat JBoss Application Administration I (AD248)
Course Overview
Installation, Konfiguration und Management von Red Hat JBoss Enterprise Application Platform
Im Kurs Red Hat JBoss® Application Administration I lernen Sie bewährte Methoden zur Installation und Konfiguration von Hat® JBoss® Enterprise Application Platform (JBoss EAP) 7 kennen. Erlernen Sie in praxisorientierten Labs die essenziellen praktischen Aufgaben, die ein Systemadministrator beherrschen muss, um Anwendungen auf JBoss Enterprise Application Platform effektiv implementieren und verwalten zu können.
Nach Abschluss dieses Kurses sind Sie auf das Red Hat Certified Specialist in Enterprise Application Server Administration Exam vorbereitet.
Überblick über den Kursinhalt
Installation und Ausführung von JBoss EAP 7 im eigenständigen Modus und im Domain-Modus
Konfiguration einer Domain
Implementierung von Anwendungen in JBoss EAP 7
Konfiguration des Datenquellen-Subsystems
Konfiguration von Java™ Message Service (JMS) und HornetQ
Konfiguration des Protokollierungs-Subsystems
Konfiguration des Web-Subsystems
Implementierung von Anwendungssicherheit auf JBoss EAP 7
Konfiguration des Batch-Subsystems
Einführung in das Clustering
Who should attend
Systemadministratoren, für Red Hat JBoss entweder neu ist oder die Erfahrung mit der Red Hat JBoss Enterprise Application Platform 6 haben
Certifications
This course is part of the following Certifications:
Prerequisites
Grundlegende Erfahrung mit der Systemadministration der Betriebssysteme Microsoft Windows, UNIX oder Linux®
Kenntnisse über Hardware und Netzwerke
Hinweis: Es sind keine Vorkenntnisse in Java, Skripterstellung oder JBoss Developer Studio erforderlich.
Course Objectives
Auswirkungen auf die Organisation
Dieser Kurs soll die Fähigkeiten entwickeln, die erforderlich sind, um die Markteinführungszeit von Anwendungen zu verkürzen und Verwaltungsaufgaben zu vereinfachen. Diese Fähigkeiten eignen sich für Organisationen, die die Anwendungsstabilität steigern und Kosten für die Anwendungsverwaltung senken möchten.
Auswirkungen dieser Schulung
Im Ergebnis der Teilnahme an diesem Kurs sollten Sie in der Lage sein, die JBoss EAP 7 sowohl im Standalone-Modus als auch in einer verwalteten Domain mit EAP CLI und auch über die Webkonsole zu verwalten.
Sie sollten in der Lage sein, folgende Aufgaben auszuführen:
Installation von EAP 7 im Standalone-Modus oder als verwaltete Domain
Konfiguration des Batch-Subsystems
Administration des HornetQ Messaging-Subsystems
Sicherung von auf JBoss EAP bereitgestellten Anwendungen
Anpassen der Serverprotokollierung
Erstellen und Verwalten von Datenquellenverbindungen zu Datenbanken
Verwaltung des JBoss EAP Clustering
Course Content
Überblick über die JBoss Enterprise Application Platform (JBoss EAP)
Konzepte und Terminologie von JBoss EAP 7 erlernen.
Installation und Ausführung einer JBoss EAP-Instanz
Erweiterungen, Profile und Subsysteme verstehen lernen.
Konfiguration von JBoss EAP im Standalone-Modus
JBoss EAP im Standalone-Modus betreiben und konfigurieren.
Konfiguration von Schnittstellen und Socket-Verbindungsgruppen
Skript-Konfiguration und Einsatz von Anwendungen
Konfiguration von JBoss EAP mit Befehlszeilenschnittstellen
Implementierung von Anwendungen im Standalone-Modus
Konfiguration von JBoss Enterprise Application Platform als verwaltete Domain
Ausführung von JBoss EAP als verwaltete Domain
Zuweisung von Domain Controllern
Konfiguration eines Host Controllers und eines Domain Controllers
Konfiguration von Servern in einer Managed Domain
Verwaltung der Domain-Server Architektur
Konfiguration von Servern und Servergruppen
Konfiguration von Datenquellen
Erkunden Sie das Datenquellen-Subsystem bzw. konfigurieren Sie JDBC-Treiber, Datenquellen und eine XA-Datenquelle.
Konfiguration des Protokollierungs-Subsystems
Konfiguration von Loggern und Logging Handlers.
Konfiguration des Messaging-Subsystems
Das Messaging-Subsystem kennenlernen.
Konfiguration der Messaging-Ressourcen, Journale und anderer Einstellungen
Sicherung von JBoss EAP
Einen Sicherheitsbereich für eine Datenbank, einen LDAP-Sicherheitsbereich und einen Kennworttresor konfigurieren.
Sicherung eines JMS Ziels.
Konfiguration der Java Virtual Machine (JVM)
Die JVM im Standalone-Modus und in einer verwalteten Domain konfigurieren.
Konfiguration des Web-Subsystems
Erkunden und konfigurieren Sie die Eigenschaften des Web-Subsystems.
Bereitstellung von Cluster-Anwendungen
Entdecken Sie Cluster-Anwendungen
Konfiguration von Subsystemen zur Unterstützung von Cluster-Anwendungen und Lastverteilung
Implementierung von HV Singleton Anwendungen.
Konfiguration des Batch-Subsystems
Batch-Jobs und das Batch-Subsystem kennenlernen und konfigurieren.
Entdeckung neuer Funktionen in JBoss EAP 7
Die neuen Funktionen von JBoss EAP 7 entdecken.
Migration von JBoss EAP 6 Anwendungen zu JBoss EAP 7
Umfassende Wiederholung von Red Hat JBoss Application Administration I
Prüfung der Aufgaben aus Red Hat JBoss Application Administration I.
Online Training
Duration 5 days
Classroom Training
Duration 5 days
Price
(excl. tax)
Germany:

2,835.— €

Switzerland:

2,835.— €
Duration 90 days
Price
(excl. tax)
Germany:

2,410.— €

Switzerland:

2,410.— €
Buy E-Learning
Schedule
German
Time zone: Central European Time (CET) ±1 hour
Polish
Time zone: Central European Time (CET) ±1 hour
Italian
Time zone: Central European Time (CET) ±1 hour