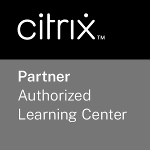 Citrix Virtual Apps and Desktops 7 Assessment, Design and Advanced Configuration (CWS-415)
Course Overview
Dieser Kurs behandelt die Entwurfsprinzipien für die Erstellung einer praktischen Citrix Virtual Apps and Desktops-Virtualisierungslösung.
Sie lernen, die vorhandene Umgebungen zu bewerten und erarbeiten verschiedene Szenarien um die Anforderungen der Geschäftsprozesse mit Designentscheidungen zu verlinken.
Dieser Kurs folgt dem Citrix Consulting Ansatz und bringt Ihnen die Schlüssel-Designentscheidungen durch Vorträge, Laborübungen und interaktive Diskussionen näher.
Darüber hinaus lernen Sie auch weitere Überlegungen und erweiterte Konfigurationen bezüglich Lösungen mit mehreren Standorten sowie der Disaster Recovery-Planung kennen.
Who should attend
Dieser Kurs richtet sich an IT-Experten mit langjähriger Erfahrung in Citrix Virtual Apps and Desktops 7.x sowie in unterstützender Infrastruktur.
Dieses Training eignet sich, wenn Sie für das Design und overall health der Strukturen zuständig sind oder Andere als Consultant durch die Prozesse dieser führen.
Prerequisites
Umfangreiche Erfahrung mit Citrix Virtual Apps and Desktops 7.x
Erfahrungen mit Citrix Gateway und unterstützender Infrastruktur
Zusätzlich empfiehlt Citrix den vorherigen Besuch der folgenden Kurse bzw. Lernpfade vor Teilnahme an dem Kurs CWS-415:
ODER
Course Content
Methodology & Assessment
User Layer
Access Layer
Resource Layer – Images
Resource Layer - Applications and Personalization
Control Layer
Hardware/Compute Layer
Maintaining an App Layering Environment
Disaster Recovery
Classroom Training
Duration 5 days
Price
(excl. tax)
Courseware language: English
Click on town name to book
Schedule
This class will become guaranteed to run with one more student registration.
This computer icon in the schedule indicates that this date/time will be conducted as Instructor-Led Online Training.
This is a
FLEX
course, which is delivered both virtually and in the classroom.
Germany
FLEX Training
Please see below our alternative, English language, FLEX course options.
09/12/2019 - 13/12/2019
FLEX training
This is an English language FLEX course.


Time zone: Europe/Budapest
27/01/2020 - 31/01/2020
FLEX training
This is an English language FLEX course.


Time zone: Europe/Ljubljana
04/05/2020 - 08/05/2020
FLEX training
This is an English language FLEX course.


Time zone: Europe/Budapest
15/06/2020 - 19/06/2020
FLEX training
This is an English language FLEX course.


Time zone: Europe/Zagreb
28/09/2020 - 02/10/2020
FLEX training
This is an English language FLEX course.


Time zone: Europe/Bratislava
Switzerland