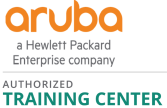 ArubaOS-CX Switching Fundamentals (CXF)
Course Overview
This course teaches you the fundamental skills necessary to configure and manage modern, open standards-based networking solutions using Aruba's OS-CX routing and switching technologies. This course consists of approximately 60% lecture and 40% hands-on lab exercises to help you learn how to implement and validate small to medium enterprise network solutions. This 5-day course prepares network professionals for the Aruba Certified Switching Associate exam.
In this course, participants learn about ArubaOS-CX switch technologies including: Virtual Local Area Networks (VLANs), secure access using features like dynamic segmentation, redundancy technologies such as Multiple Spanning Tree Protocol (MSTP), link aggregation techniques including Link Aggregation Control Protocol (LACP), and switch virtualization with Aruba's Virtual Switching Framework (VSF). You also learn about IP Routing including static and dynamic IP routing with Open Shortest Path First (OSPF).
Who should attend
Ideal candidates are IT Professionals who deploy small-to-medium scale enterprise network solutions based on Aruba products and technologies.
Certifications
This course is part of the following Certifications:
Course Objectives
After you successfully complete this course, expect to be able to:
Explain Networking Fundamentals
Describe and review the Aruba Switching portfolio with customers
Install and configure devices running the ArubaOS-CX Network Operating System
Describe and configure VLANs
Explain, describe and configure Spanning Tree Protocol
Understand when to use VRRP and how to configure it
Explain and configure Link Aggregation
Understand and configure IP Routing
Explain IP Subnetting
Understand and configure OSPFv2 – Single Area
Describe and configure Switch Stacking using VSF
Configuration of Aruba solutions using Secure Management and Maintenance methodologies
Manage, monitor, administer and operate Aruba solutions using Aruba's NetEdit tool
Follow On Courses
Course Content
Network Fundamentals
TCP/IP Stack
Basic Networking with Aruba Solutions
VLANs
Spanning Tree Protocol
Link Aggregation
IP Routing - Part 1
VRRP
IP Routing - Part 2
IP Routing - Part 3
Stacking
Secure Management and Maintenance
AOS-CX Management tools
Classroom Training
Duration 5 days
Price
(excl. tax)
Germany:

3,250.— €

Switzerland:

CHF 3,250.—
incl. catering
Catering includes:
Coffee, Tea, Juice, Water, Soft drinks
Pastry and Sweets
Fresh fruits
Lunch in a nearby restaurant
* Catering information only valid for courses delivered by Fast Lane.
Digital courseware
Schedule