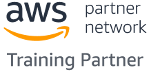 AWS Certified Solutions Architect Associate Bundle (ACSAA-BUNDLE)
Dieses Training enthält:
Einen Voucher für die Prüfung zum AWS Certified Solutions Architect – Associate Level
Who should attend
Lösungsarchitekten
Lösungskonzept-Ingenieure
Certifications
This course is part of the following Certifications:
Course Content
1. Tag
Einführung in AWS und seine Entwicklung
Speicherung und Bereitstellung von Inhalten in AWS
Datenverarbeitungsservices und Netzwerk
Managed Services & Datenbank in AWS
Bereitstellung und Verwaltung
2. Tag
Grundlagen zu AWS
Entwurf Ihrer Umgebung
Hochverfügbarkeit Ihrer Umgebung
Verschieben einer bestehenden Anwendung in AWS
3. Tag
Ereignisbasierte Skalierung
Automatisierung und Entkopplung Ihrer Infrastruktur
Entwurf eines skalierbaren Speichers
Hosting einer neuen Webanwendung auf AWS
4. Tag
Die vier Säulen des Well-Architected Framework
Wiederherstellung im Notfall und Failover-Strategien
Fehlerbehebung in Ihrer Umgebung
Designmuster für umfangreiche Anwendungen und Fallbeispiele
Click on town name to book
Schedule
Fast Lane will carry out all guaranteed training regardless of the number of attendees, exempt from force majeure or other unexpected events, like e.g. accidents or illness of the trainer, which prevent the course from being conducted.
This computer icon in the schedule indicates that this date/time will be conducted as Instructor-Led Online Training.
This is a
FLEX
course, which is delivered both virtually and in the classroom.