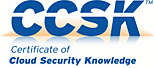 Cloud Computing Security Knowledge - Plus (CCSKP)
Course Overview
The three day CCSK classroom course covers the entire CCSK body of knowledge and illustrates this with practical exercises that reinforce the learning. On top of that, audience interaction is also widely considered as useful.
Course Objectives
After three days of cloud conversation, you will not only be in a very good position to attain the CCSK certification, but your job effectiveness will also increase. It will be easier to speed up cloud projects that have value, and easier to stop projects that don't. That in itself merits spending time on the course.
Course Content
Introduction to cloud computing
Infrastructure and virtualization security
Practical exercise on AWS or OpenStack
Cloud Security and Risk
Data Security for Cloud
Portability
Incident response
Securing Cloud Applications
Identity and Access Management (practical exercise)
Security as a Service
Governance and Risk management
Lab and/or demo
Legal and compliance
Audit
Review, Evaluation and Test Preparation
Click on town name to book
Schedule
This is a
FLEX
course, which is delivered both virtually and in the classroom.
Germany
FLEX Training
Please see below our alternative, English language, FLEX course options.
04/12/2017 - 06/12/2017
FLEX training
This is an English language FLEX course.


Time zone: Europe/Berlin