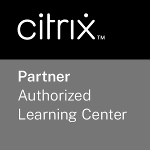 Moving to the Citrix Virtual Apps and Desktops Service on Citrix Cloud with Microsoft Azure (CXD-252)
Course Overview
Dieser Kurs navigiert Sie durch den Wechsel von einer lokalen Umgebung in die Citrix Cloud und lernt Sie die Bereitstellung von Ressourcenstandorten auf Microsoft Azure. Sie lernen die Architektur, die Kommunikation und das Management innerhalb der citric Cloud und dem XenApp und XenDesktop Service kennen und migrieren anschließend die vorhandene Infrastruktur und deren Einstellungen in die Citrix Cloud.
Desweiteren planen Sie den Maschinenkatalog und das virtuelle Maschinen-Design, das auf der öffentlichen Microsoft Cloud basiert, und wie sie diese Maschinen mit Machine Creation Services bereitstellen. Zusätzliche Azure-Überlegungen hinsichtlich der Instandhaltung und des Energiemanagaments werden Ihnen nähergebracht. Sie erfahren auch, wie Sie Citrix StoreFront und NetScaler Gateway als Service in der Citrix Cloud oder als verwaltete Maschinen in Ihrem Rechenzentrum oder auf der Azure-Plattform für den Remotezugriff konfigurieren können.
Who should attend
Dieser Kurs richtet sich an erfahrene IT-Fachleute, die mit XenApp und XenDesktop 7.x in einer lokalen Umgebung vertraut sind. Er unterstützt den Wechsel in die Citrix Cloud und das Bereitstellen von XenApp und XenDesktop Workloads auf Microsoft Azure.
Prerequisites
Erfahrungen in der Bereitstellung und Verwaltung von XenApp und XenDesktop 7.x in der lokalen Umgebung sowie zusätzliche Grundkenntnisse der Microsoft Azure-Plattform. Insbesondere Vernetzung, Lagerung, Azure Resource Manager-Portale und in der Verwaltung von virtuellen Maschinen.
Course Content
Kennenlernen der Citrix Cloud
Citrix Cloud Connectors
Kennenlernen der XenApp und XenDesktop Services
Verwalten der XenApp und XenDesktop Services
Bereitstellen von Zugriffren mit StoreFront und NetScaler in Citrix Cloud
Public Cloud Überlegungen
Vor-Ort-Migration zu XenApp und XenDesktop Services
Kennenlernen von XenApp und XenDesktop auf Azure
Integrieren von XenApp und XenDesktop mit Azure Active Directory
Verbinden mit Microsoft Azure
Bereitstellen von Apps und Desktops mit Hilfe von Machine Creation Services
Bereitstellen von Zugriffen für Endbenutzer
Warten von Infrastruktur und VDAs in Microsoft Azure
Planen eines erfolgreichen POCs
Classroom Training
Duration 5 days
Price
(excl. tax)
Courseware language: English
Click on town name to book
Schedule
This computer icon in the schedule indicates that this date/time will be conducted as Instructor-Led Online Training.
This is a
FLEX
course, which is delivered both virtually and in the classroom.
North America
United States
16/12/2019 - 20/12/2019
Online Training
Time zone: US/Eastern
Course language:

English
13/01/2020 - 17/01/2020
Online Training
Time zone: US/Eastern
Course language:

English
10/02/2020 - 14/02/2020
Online Training
Time zone: US/Eastern
Course language:

English
02/03/2020 - 06/03/2020
Online Training
Time zone: US/Eastern
Course language:

English
Latin America
Mexico
17/02/2020 - 21/02/2020
FLEX training
This is an Spanish language FLEX course.


Time zone: America/Mexico_City
20/04/2020 - 24/04/2020
FLEX training
This is an Spanish language FLEX course.


Time zone: America/Mexico_City
08/06/2020 - 12/06/2020
FLEX training
This is an Spanish language FLEX course.


Time zone: America/Mexico_City