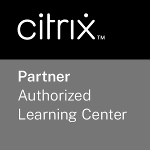 Citrix Virtual Apps and Desktops 7.x Help Desk Support (CXD-105)
Who should attend
This course is intended for helpdesk representatives that support XenApp and XenDesktop 7.x users.
Prerequisites
An understanding of server, desktop and application virtualization concepts.
Take the free CXD-102 Introduction to Citrix XenDesktop 7 eLearning course.
Take the free CXA-104 Citrix XenApp 7.6: Overview eLearning course.
Course Objectives
Learners are able to complete the following after successful completion of course:
Complete helpdesk tickets thoroughly with the appropriate documentation.
Troubleshoot and resolve XenApp and XenDesktop issues within their scope in a timely manner.
Escalate issues that are out of scope to the appropriate team/individual.
Think strategically and use the proper consoles during troubleshooting to quickly determine the root cause of a problem.
Classroom Training
Duration 2 days
Price
(excl. tax)
Courseware language: English
Click on town name to book
Schedule
Fast Lane will carry out all guaranteed training regardless of the number of attendees, exempt from force majeure or other unexpected events, like e.g. accidents or illness of the trainer, which prevent the course from being conducted.
This computer icon in the schedule indicates that this date/time will be conducted as Instructor-Led Online Training.
This is a
FLEX
course, which is delivered both virtually and in the classroom.
Germany
Currently no local training dates available. For enquiries please write to info@flane.de.
FLEX Training
Please see below our alternative, English language, FLEX course options.
North America
United States
22/10/2019 - 23/10/2019
Online Training
Time zone: US/Eastern
Course language:

English
guaranteed date!
25/11/2019 - 26/11/2019
Online Training
Time zone: US/Eastern
Course language:

English
guaranteed date!
23/01/2020 - 24/01/2020
Online Training
Time zone: US/Eastern
Course language:

English
20/02/2020 - 21/02/2020
Online Training
Time zone: US/Eastern
Course language:

English