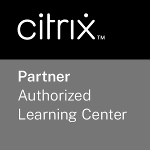 Citrix Virtual Apps and Desktops 7 Advanced Deployment, Troubleshooting, Security and Administration (CWS-315)
Course Overview
In diesem Kurs lernen Sie das Einrichten von Skalierbarkeiten, Redundanzen sowie von Security-Konfigurationen.
Zusätzlich lernen Sie erweiterte Features, bauen und komibnieren von App Layers und Workspace Environment Management, um das Management Ihrer App und Desktop Images zu optimieren.
Dies kann die Anmeldezeiten verbessern, die User Settings zentralisieren und die Performance der Maschinen (Virtual Delivery Agent) optimieren.
In Bezug auf Troubleshooting lernen Sie Techniken, um die gängigen Probleme zu untersuchen, die sich auf die Gesundheit Ihrer Umgebung auswirken können.
Abschließend erlangen Sie ein umfassendes Verständnis, wie Sie Komplexere Lösungen (Multizone Environments über mehrere Standorte) managen mit Hilfe von Konfigurationen rund um StoreFront, die Delivery Controller und HDX.
Who should attend
Dieser Kurs richtet sich an erfahrene Administratoren, Ingenieure und Architekten, die mit Citrix Virtual Apps and Desktops 7.x arbeiten (on-premises oder Citrix Cloud) und Ihre Skills auf das Professional-Level erweitern wollen.
Course Content
Implementing Redundancy and Scalability
Managing a Virtual Apps and Desktops Environment with Multiple Locations Zones
Implementing Backups and Disaster Recovery
Implementing Advanced Authentication Methods
Improving App and Data Security
Securing Machines Running the Virtual Delivery Agent
Introduction to Troubleshooting
Troubleshooting Access Issues
Troubleshooting Delivery Controller Issues
Troubleshooting VDA Registration Issues
Troubleshooting HDX Connection Issues
Introduction to App Layering
Creating an OS Layer
Creating a Platform Layer
Creating App Layers
Creating Elastic App and User Layers
Deploying a Layered Image using Citrix Virtual Apps and Desktops
Exploring Layer Priority
Maintaining an App Layering Environment
Introduction to Workspace Environment Management (WEM)
Using WEM to Centralize Environment Management
Using WEM for Performance Optimization
Using WEM to Secure Environments
Migrating and Upgrading WEM
Classroom Training
Duration 5 days
Price
(excl. tax)
Online Training
Duration 5 days
Price
(excl. tax)
Click on town name to book
Schedule
This computer icon in the schedule indicates that this date/time will be conducted as Instructor-Led Online Training.
This is a
FLEX
course, which is delivered both virtually and in the classroom.
Germany
FLEX Training
Please see below our alternative, English language, FLEX course options.
Switzerland
North America
United States
09/03/2020 ― 13/03/2020
Online Training
Time zone: US/Eastern
Course language:

English
16/03/2020 ― 20/03/2020
Online Training
Time zone: US/Eastern
Course language:

English
30/03/2020 ― 03/04/2020
Online Training
Time zone: US/Eastern
Course language:

English