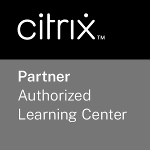 Deploy & Manage Citrix SD-WAN Essentials (CNS-230)
Course Overview
In diesem Kurs lernen Sie, welche SD-WAN Implementierungen und Bereitstellungsmodi verfügbar sind und wie Sie die passenden für Ihre Organisation auswählen können. Gemeinsam erarbeiten Sie die zugrunde liegende Architektur von SD-WAN und lernen, die verschiedenen Komponenten zu unterscheiden. Sie erlangen ein Verständnis darüber, wie die verschiedenen Elemente von SD-WAN zusammenkommen, um ein besseres Netzwerkerlebnis zu bieten. Zu den Themen gehören unter anderem Quality of Service, Classes of Service, Regeln, Dynamisches Routing, DHCP Services, Zero Touch Deployment und SD-WAN Verwaltungstools. In diesem Training werden die Inhalte durch Nutzung von Hands-on Labs unterstützt.
Who should attend
Dieser Kurs richtet sich an IT-Experten, die mit Citrix SD-WAN arbeiten und bislang wenig oder gar keine Erfahrung mit diesem Produkt haben. Die potentielle Zielgruppe sind Administratoren, Ingenieure und Architekten, die daran interessiert sind, Citrix SD-WAN bereitzustellen und/oder zu verwalten.
Prerequisites
Verständnis für verschiedene Computernetze wie LAN (Local Area Network) und WAN (Wide Area Network)
Vertrautheit mit datentragenden Techniken, einschließlich MPLS (Multiprotocol Label Switching), Metro-Ethernet und VPN-Tunneling
Verständnis von Techniken zur Erhöhung der Effizienz des Datentransfers / WAN-Optimierung
Allgemeines Verständnis von Branch-Network-Technologien, wie Routing, Firewall, DHCP, Internetkontrolle und Quality of Service
Course Content
Citrix SD-WAN Einführung und Überblick
Citrix SD-WAN Bereitstellungsmodi und Konfiguration
Citrix SD-WAN Bereitstellung und Änderungsmanagement
Citrix SD-WAN Sicherheitsaspekte
Citrix SD-WAN Quality of Service
Citrix SD-WAN Optimierungen
Online Training
Duration 3 days
Classroom Training
Duration 3 days
Price
(excl. tax)
E-Learning
Price
(excl. tax)
Germany:

4,000.- €

Switzerland:

US$ 4,000.-
Buy E-Learning
Schedule
This computer icon in the schedule indicates that this date/time will be conducted as Instructor-Led Online Training.