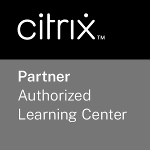 Citrix (NetScaler) ADC 12.x Essentials and Citrix Gateway (CNS-222)
Who should attend
Administrators
Implementers / Engineers
Architects
Prerequisites
It is recommended that you have a basic understanding of the following concepts and technologies:
Basic Networking
Windows and Linux Server administration
Experience with Citrix virtualization technologies, such as XenDesktop and XenApp
Experience with Microsoft SQL Server or enterprise database servers
Experience with Active Directory and Group Policy
Basic understanding of Microsoft Remote Desktop Services
Basic understanding of VPN concepts, including SSL encryption and certificates
Course Objectives
Upon successful completion of this course, you will be able to:
Identify the functionality and capabilities of the NetScaler
Explain basic NetScaler network architecture
Explain how SSL is used to secure the NetScaler
Configure Authentication and Authorization
Define End User Access and Experience
Integrate NetScaler Gateway with XenApp and XenDesktop
Integrate Unified Gateway with additional resources
Employ recommended tools and techniques to troubleshoot common NetScaler Gateway network and connectivity issues
Course Content
Citrix NetScaler for Apps and Desktops is a 5 day instructor led course that teaches you the skills required to implement NetScaler components including secure Load Balancing, High Availability, and NetScaler Management. You will also learn how to configure and manage NetScaler Gateway and Unified Gateway features, including how to implement Gateway components including NetScaler Gateway and Unified Gateway. At the end of the course students will be able to configure their NetScaler environments to address traffic delivery and management requirements including load balancing, availability and NetScaler operation management.
Classroom Training
Duration 5 days
Price
(excl. tax)
Courseware language: English
Click on town name to book
Schedule
Fast Lane will carry out all guaranteed training regardless of the number of attendees, exempt from force majeure or other unexpected events, like e.g. accidents or illness of the trainer, which prevent the course from being conducted.
This computer icon in the schedule indicates that this date/time will be conducted as Instructor-Led Online Training.
This is a
FLEX
course, which is delivered both virtually and in the classroom.
Germany
International guaranteed dates
FLEX Training
Please see below our alternative, English language, FLEX course options.
30/03/2020 - 03/04/2020
FLEX training
This is an English language FLEX course.


Time zone: Europe/Prague
31/08/2020 - 04/09/2020
FLEX training
This is an English language FLEX course.


Time zone: Europe/Budapest
02/11/2020 - 06/11/2020
FLEX training
This is an English language FLEX course.


Time zone: Europe/Belgrade
Switzerland
Latin America
Mexico
09/12/2019 - 13/12/2019
FLEX training
This is an Spanish language FLEX course.


Time zone: America/Mexico_City
17/02/2020 - 21/02/2020
FLEX training
This is an Spanish language FLEX course.


Time zone: America/Mexico_City
20/04/2020 - 24/04/2020
FLEX training
This is an Spanish language FLEX course.


Time zone: America/Mexico_City
08/06/2020 - 12/06/2020
FLEX training
This is an Spanish language FLEX course.


Time zone: America/Mexico_City