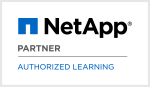 Administration of OnCommand Management Solutions for Clustered Data ONTAP (AOCMCDOT)
Who should attend
NetApp employees or NetApp partners who are support engineers, Professional Services workers, or Customer Support Services workers
Prerequisites
Working knowledge of clustered Data ONTAP
Course Objectives
By the end of this course, you should be able to:
Configure Unified Manager to manage your storage infrastructure, storage objects, and protection relationships
Use annotations to categorize storage objects
Configure thresholds, event retention settings, and alerts
Identify and resolve issues in your storage environment
Use OnCommand Performance Manager to identify and resolve performance incidents
Configure Workflow Automation to execute predefined and user-defined workflows for storage operations
Course Content
Administration of OnCommand Management Solutions for Clustered Data ONTAP (AOCMCDOT) is a 2 day instructor led course that demonstrates how to configure OnCommand Unified Manager, monitor and Manage storage objects, configure Oncommand Performance Manager, and the learn the features and benefits of OnCommand Workflow Automation.
Click on town name to book
Schedule
This computer icon in the schedule indicates that this date/time will be conducted as Instructor-Led Online Training.
This is a
FLEX
course, which is delivered both virtually and in the classroom.
North America
United States
27/06/2017 - 28/06/2017
Online Training
Time zone: US/Central
Course language: English
01/08/2017 - 02/08/2017
Online Training
Time zone: US/Pacific
Course language: English
03/10/2017 - 04/10/2017
Online Training
Time zone: US/Central
Course language: English
07/11/2017 - 08/11/2017
Online Training
Time zone: US/Pacific
Course language: English
05/12/2017 - 06/12/2017
Online Training
Time zone: US/Eastern
Course language: English
Asia Pacific
Australia
19/06/2017 - 20/06/2017
Sydney
31/07/2017 - 01/08/2017
Online Training
Time zone: Australia/Sydney
Course language: English
Middle East