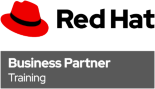 Implementing Red Hat JBoss BRMS with Exam (EX465) (AD466)
Course Overview
Eine Kombination aus Authoring Rules with Red Hat JBoss BRMS (JB461) und Developing Rules Applications with Red Hat Decision Manager (JB463)
Der Kurs Implementing with Red Hat® Decision Manager vereint Inhalte aus den Kursen Authoring Rules with Red Hat Decision Manager (JB461) und Developing Rules Applications with Red Hat Decision Manager (JB463). Er vermittelt Unternehmensanalysten, Business Rules-Entwicklern und Java™ Enterprise-Anwendungsentwicklern Kenntnisse in Erstellung, Überprüfung, Problembehandlung und Kontrolle von Business Rules.
Die Teilnehmer führen mithilfe von Red Hat JBoss Developer Studio und Red Hat Decision Manager detaillierte, praxisorientierte Übungen zur Erstellung und Verwaltung von Business Rules in einer Produktionsumgebung aus. In dieser Version des Kurses ist das Red Hat Certified Specialist in Decision Manager Exam (EX465) enthalten.
Überblick über den Kursinhalt
Verfassung von Geschäftsregeln in JBoss Developer Studio und Business Central
Integration von Business Rules mit Java-Anwendungen
Erstellung erweiterter Regeln
Überprüfung von Business Rules
Verfassen und Überprüfen von Regeln in Entscheidungstabellen
Verfassen von Rule Templates und Regeln aus Entscheidungstabellen
Verfassen domainspezifischer Sprachen
Decision Manager-Architektur und Ausführung von Regeln zur Laufzeit
Kontrolle der Regelausführung und Vermeidung von Konflikten
Komplexe Ereignisverarbeitung (CEP)
Integration mit Business Central
Who should attend
Unternehmensanalysten und Enterprise-SOA-Architekten, die für die Erstellung und Anpassung von Geschäftsregeln verantwortlich sind.
Regelautoren, die für das Verfassen und Testen von Regeln verantwortlich sind
Java EE-Anwendungsentwickler, die für die Integration von Geschäftsregeln in SOA- und Java EE-Anwendungen zuständig sind
Prerequisites
Grundlegende Java/Java EE Programmiererfahrung
Kenntnisse der IDE Eclipse sowie von Maven und GIT sind von Vorteil, aber nicht erforderlich
Course Objectives
Auswirkungen auf die Organisation
In diesem Kurs erlernen Sie die Fertigkeiten für die Erstellung einer Geschäftslogik in Form von Geschäftsregeln per graphischer Schnittstelle. Diese Regeln werden von traditionellen Anwendungen auf eine Weise verwendet, dass die Regeln ohne Aktualisierung bzw. Neuimplementierung von Anwendungen geändert werden können. Angestrebte Ergebnisse sind eine schnellere Time-to-Market, eine gesteigerte Transparenz der mit einer Anwendung implementierten Geschäftsregeln sowie ein vermindertes Risiko für Interpretationsfehler und damit Anwendungsfehler.
Auswirkungen auf den Einzelnen
Alle Kursteilnehmer sollten in der Lage sein, mit der Business Central Webschnittstelle und JBoss Developer Studio IDE Geschäftsregeln in Java Anwendungen zu entwickeln, zu testen und zu integrieren. Die Geschäftsregeln sind in Sprachen zu erstellen, die von Geschäftsexperten wie Softwareentwicklern gleichermaßen verstanden werden.
Die Teilnehmer sollten in der Lage sein, die folgenden Aufgaben auszuführen:
Erstellung von Geschäftsregeln mithilfe der deklarativen Sprache Drools
Erstellung von Geschäftsregeln mithilfe von Entscheidungstabellen und Domain Specific Languages (DSL)
Überprüfung von Geschäftsregeln außerhalb einer Anwendung
Integration von Geschäftsregeln in Java oder Java EE Anwendungen
Fehlerbehebung bei Geschäftsregeln
Implementierung von Konfliktlösungsstrategien für Geschäftsregeln
Implementierung von auf das Complex Event Processing (CEP) zugeschnittenen Regeln
Erstellung von Geschäftsregeln mithilfe der deklarativen Sprache Drools
Empfohlene Anschlusskurse oder Prüfungen
Red Hat Certified Specialist in Decision Manager Exam (EX465)
Course Content
Überblick über Red Hat Decision Manager with Exam
Erfahren Sie alles über Architektur, grundlegende Bereitstellungsoptionen und Geschäftsanforderungen für Business Rules Management Systeme wie Red Hat Decision Manager.
Verfassen grundlegender Business Rules
Entwicklung von Business Rules-Strukturen und -Komponenten, darunter faktenbasierter Arbeitsspeicher
Bestimmung von Regelkomponenten
Verfassung von Regeln mit Business Central und Red Hat JBoss Developer Studio (JBDS)
Integration von Business Rules mit Java-Anwendungen
Einbindung der Regelverarbeitung in eine Anwendung über die Knowledge API
Verfassen von Regeln in Form von technischen Regeln, Entscheidungstabellen, Vorlagen und domainspezifischen Sprachdateien
Verfassung von Regeln mit dem technischen Business Central-Regeleditor und Ausarbeitung einer Entscheidungstabellenkalkulation
Verfassung von Regelvorlagen
Business Rules-Entscheidungstabellen und Regelvorlagen
Ausarbeitung von Regeltabellenkalkulationen und Regelvorlagen
Domain-spezifische Sprachen in Decision Manager
Erfahren Sie alles über den Zweck domainspezifischer Sprachen (DSLs), ihre Festlegung und ihre Verwendung in einer Decision Manager-Regel.
Verwendung domainspezifischer Sprachen von Entwicklern zum Verfassen von Regeln
Überprüfung von Business Rules
Testen von Business Rules unter Verwendung der Business Central-Web-Oberfläche und Java-Codierung
Erstellung komplexer Regeln mit Decision Manager
Erstellung komplexer Geschäftsregeln mit erweiterten Bedingungen und Platzbeschränkungen
Kontrolle der Regelausführung
Kontrolle der Regelausführung
Methoden zur Vermeidung von Regelkonflikten
Fehlerbehebung bei grundlegenden Business Rules in Drools
Fehlerbehebung bei Drools-Anwendungen in JBDS
Complex Event Processing in Decision Manager
Beschreibung und Verwendung von Complex Event Processing mit Regeln
Integration mit Business Central
Überblick über die Decision Manager-Administration mit der in Decision Manager integrierten Webanwendung Business Central
Informationen zur Integration von Business Central mit Java-Code
Online Training
Duration 5 days
Price
(excl. tax)
Classroom Training
Duration 5 days
Price
(excl. tax)
Germany:

3,605.- €

Switzerland:

3,605.- €