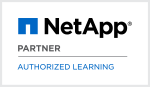 Designing the FlexPod Solution (FPDESIGN)
Who should attend
Network Engineers
Network Administrators
System Engineers
Server Administrators
Prerequisites
Basic understanding of storage operations
Basic knowledge of server and server virtualization
General knowledge of networking technologies
Course Objectives
Describe the FlexPod Solution
Identify FlexPod Design Requirements
Identify the supported Cisco UCS components
Identify the supported NetApp storage components
Identify the supported Cisco Nexus components
Describe the FlexPod topology options
Describing FlexPod validated management solutions
Describe the FlexPod use case with VMware vSphere 6.0 and IP-Based Storage
Describe the FlexPod use case with Red Hat Enterprise Linux OpenStack
Follow On Courses
Course Content
Designing the FlexPod Solution is a 2-day instructor-led course where you will learn to evaluate the FlexPod solution design process with regard to the contemporary data center challenges. The course provides a comprehensive understanding of the reconnaissance and analytics assess computing solution performance characteristics and requirements. In addition, this course will describe the hardware components of the FlexPod and the process for selecting proper hardware for a given set of requirements.
Updated features:
Cisco UCS
Cisco ACI Architecture
Nexus 9k
Microsoft Hyper-V and VMware 6
Red Hat Linux OpenStack
All Flash FAS
Click on town name to book
Schedule
Fast Lane will carry out all guaranteed training regardless of the number of attendees, exempt from force majeure or other unexpected events, like e.g. accidents or illness of the trainer, which prevent the course from being conducted.
This computer icon in the schedule indicates that this date/time will be conducted as Instructor-Led Online Training.
This is a
FLEX
course, which is delivered both virtually and in the classroom.
FLEX Training
Please see below our alternative, English language, FLEX course options.
23/09/2019 - 24/09/2019
FLEX training
This is an English language FLEX course.


Time zone: Europe/Prague
04/11/2019 - 05/11/2019
FLEX training
This is an English language FLEX course.


Time zone: Europe/London
11/11/2019 - 12/11/2019
FLEX training
This is an English language FLEX course.


Time zone: Europe/Sofia
North America
United States
16/09/2019 - 17/09/2019
Online Training
Time zone: US/Central
Course language: English
28/10/2019 - 29/10/2019
Online Training
Time zone: US/Pacific
Course language: English
16/12/2019 - 17/12/2019
Online Training
Time zone: US/Eastern
Course language: English
Canada
25/03/2019 - 26/03/2019
Online Training
Time zone: Canada/Central
Course language: English
16/09/2019 - 17/09/2019
Online Training
Time zone: Canada/Central
Course language: English
16/12/2019 - 17/12/2019
Online Training
Time zone: Canada/Eastern
Course language: English
Asia Pacific
Australia
13/06/2019 - 14/06/2019
FLEX training
This is an English language FLEX course.


Time zone: Australia/Melbourne
08/08/2019 - 09/08/2019
FLEX training
This is an English language FLEX course.


Time zone: Australia/Sydney
28/11/2019 - 29/11/2019
FLEX training
This is an English language FLEX course.


Time zone: Australia/Melbourne
India
27/05/2019 - 28/05/2019
FLEX training
This is an English language FLEX course.


Time zone: Asia/Calcutta
24/06/2019 - 25/06/2019
FLEX training
This is an English language FLEX course.


Time zone: Asia/Calcutta
26/08/2019 - 27/08/2019
FLEX training
This is an English language FLEX course.


Time zone: Asia/Calcutta
23/09/2019 - 24/09/2019
FLEX training
This is an English language FLEX course.


Time zone: Asia/Calcutta
30/10/2019 - 31/10/2019
FLEX training
This is an English language FLEX course.


Time zone: Asia/Calcutta
20/11/2019 - 21/11/2019
FLEX training
This is an English language FLEX course.


Time zone: Asia/Calcutta
Middle East
Israel
12/05/2019 - 13/05/2019
FLEX training
This is an English language FLEX course.


Time zone: Asia/Jerusalem
US$ 900.-