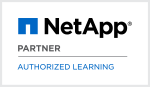 Data ONTAP 7-Mode Administration (D7ADM)
Who should attend
Customers, employees, and partners
Certifications
This course is part of the following Certifications:
Prerequisites
Students who attend this course should have a background in system administration for UNIX® or Microsoft® Windows® operating systems and/or Data ONTAP 7-Mode Fundamentals (WBT)
Course Objectives
Welcome to the NetApp® Data ONTAP® 7-Mode Administration course. Data ONTAP 8 is the next generation data storage operating system from NetApp. Data ONTAP 8.1 builds on the stability and reliability of the Data ONTAP 8 operating system and provides new functionality that sets it apart from all of the competition. This five-day instructor-led course enables you to perform basic support and administrative functions on a NetApp storage system running the Data ONTAP system operating in 7-Mode. By the end of this course you should be able to:
Identify the various components of a NetApp storage environment
Install and perform the setup configuration of Data ONTAP
Perform basic administration on a storage system
Explain and configure physical and logical storage
Identify and configure client protocols
State virtualization techniques available in Data ONTAP
Describe Snapshot copies and space consumption in Data ONTAP
Discuss backup methods available in Data ONTAP
Follow On Courses
Course Content
The NetApp Storage Environment
WAFL Simplified
Basic Administration
Physical Storage
Logical Storage
Administration Security
Networking
NFS
CIFS
NAS Management
SAN
Snapshot Copies
Space Management
High-Availability
Virtualization Solutions
Backup and Recovery Methods
Data Collection Tools
Data ONTAP Upgrades
Click on town name to book
Schedule
Fast Lane will carry out all guaranteed training regardless of the number of attendees, exempt from force majeure or other unexpected events, like e.g. accidents or illness of the trainer, which prevent the course from being conducted.
This computer icon in the schedule indicates that this date/time will be conducted as Instructor-Led Online Training.
This is a
FLEX
course, which is delivered both virtually and in the classroom.
North America
United States
22/01/2018 - 26/01/2018
Online Training
Time zone: US/Central
Course language: English
guaranteed date!
02/04/2018 - 06/04/2018
Online Training
Time zone: US/Central
Course language: English
11/06/2018 - 15/06/2018
Online Training
Time zone: US/Central
Course language: English
17/09/2018 - 21/09/2018
Online Training
Time zone: US/Central
Course language: English
29/10/2018 - 02/11/2018
Online Training
Time zone: US/Central
Course language: English
Asia Pacific