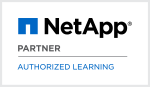 Creating and Customizing Workflows Using OnCommand Workflow Automation (CCWWFA)
Who should attend
NetApp customers
System Engineers
Application Engineers
Prerequisites
Working knowledge of clustered Data ONTAP
Course Objectives
Creating and Customizing Workflows Using OnCommand Workflow Automation is a 2 day instructor led course that teaches you how to create and customize workflows to meet your organizational storage requirements by showing you how to create commands, finders, data sources, and functions. You will also learn about the NetApp PowerShell Toolkit and how it integrates with OnCommand WFA.
By the end of this course, you will be able to:
Configure OnCommand WFA
Describe OnCommand WFA design components
Create workflows
Customize workflows
Create building blocks
List Representational State Transfer (REST) API tasks and support resources
Explore the NetApp PowerShell Toolkit
Course Content
Module 1: Introduction to OnCommand Workflow Automation
Module 2: Configuring OnCommand Workflow Automation
Module 3: Building Blocks and Workflow Enablers
Module 4: Designing and Running Workflows
Module 5: Refining Your Workflow
Module 6: Customizing Workflows
Module 7: Creating Building Blocks
Module 8: Representational State Transfer APIs and Support Resources
Module 9: Windows PowerShell and the NetApp PowerShell Toolkit
Labs
Classroom Training
Duration 2 days
Price
(excl. tax)
Germany:

1,800.- €

Switzerland:

CHF 1,980.-




NetApp Training Units:

24 NTU
incl. catering
Digital courseware
Courseware language: English
Click on town name to book
Schedule
Fast Lane will carry out all guaranteed training regardless of the number of attendees, exempt from force majeure or other unexpected events, like e.g. accidents or illness of the trainer, which prevent the course from being conducted.
This class will become guaranteed to run with one more student registration.
This computer icon in the schedule indicates that this date/time will be conducted as Instructor-Led Online Training.
This is a
FLEX
course, which is delivered both virtually and in the classroom.
North America
United States
10/10/2019 - 11/10/2019
Online Training
Time zone: US/Eastern
Course language:

English
guaranteed date!
14/11/2019 - 15/11/2019
Online Training
Time zone: US/Central
Course language:

English
Canada
10/10/2019 - 11/10/2019
Online Training
Time zone: Canada/Eastern
Course language:

English
guaranteed date!
Asia Pacific
India
21/10/2019 - 22/10/2019
FLEX training
This is an English language FLEX course.


Time zone: Asia/Calcutta
11/12/2019 - 12/12/2019
FLEX training
This is an English language FLEX course.


Time zone: Asia/Calcutta