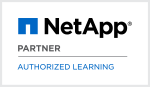 Basic NetApp Configuration and Administration (BNCA)
Who should attend
NetApp customers, IT generalists, and academic alliance students
Prerequisites
Storage Fundamentals WBT
Introduction to NetApp Products WBT
Course Objectives
By the end of this course you should be able to:
Explain features of the Data ONTAP operating system
Use the CLI and OnCommand System Manager to identify storage components
Configure storage systems and storage virtual machines (SVMs) for NAS and SAN client access
Create FlexVol volumes, qtrees, and LUNs
Manage Snapshot copies and FlexClone software
Manage volume move and storage efficiency
Follow On Courses
Course Content
Learn how to configure the basic technologies of the NetApp Data ONTAP® operating system—clustered Data ONTAP and Data ONTAP operating in 7-Mode. Through lectures and hands-on exercises, learn how to create aggregates, storage virtual machines (SVMs), virtual interfaces (VIFs), FlexVol® volumes, qtrees, Snapshot® copies, and more.
NOTE: The term "storage virtual machine (SVM)" is equivalent to the term "virtual server (Vserver)".
Click on town name to book
Schedule
Fast Lane will carry out all guaranteed training regardless of the number of attendees, exempt from force majeure or other unexpected events, like e.g. accidents or illness of the trainer, which prevent the course from being conducted.
This computer icon in the schedule indicates that this date/time will be conducted as Instructor-Led Online Training.
This is a
FLEX
course, which is delivered both virtually and in the classroom.
Germany
International guaranteed dates
23/11/2017 - 24/11/2017
Online Training
Time zone: Europe/London
Course language: English
Switzerland
North America
Canada
08/03/2018 - 09/03/2018
Online Training
Time zone: Canada/Central
Course language: English
28/06/2018 - 29/06/2018
Online Training
Time zone: Canada/Central
Course language: English
11/10/2018 - 12/10/2018
Online Training
Time zone: Canada/Central
Course language: English
Asia Pacific