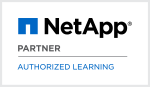 Accelerated NCDA Power Workshop Data ONTAP 8.2.1 7-Mode (ANCDABC87)
Who should attend
This course is intended for those who provide basic support for and perform administrative functions of the Data ONTAP operating system.
Prerequisites
Three years of experience in a storage related function, such as storage administrator or field engineer
Six months experience with NetApp storage solutions
Course Objectives
Prepare for the NetApp Certified Data Management Administrator (NCDA) Data ONTAP 7-Mode exams. Through lectures and labs, learn about the features and functions of the NetApp® Data ONTAP® 7-Mode operating system and about network-attached storage (NAS) administration and SAN configuration. This course covers 154 (Data ONTAP 8.0 7-Mode) and 190 (Data ONTAP 8.1 7-Mode) NCDA exams. By the end of this course you should be able to:
Configure and administer client-server relationships in NFS environments
Configure, administer, and troubleshoot storage systems in CIFS environments
Collect and analyze performance data to assist with troubleshooting storage system hardware, operating systems, network connections, NFS configuration files, and options
Define the components of a SAN environment and explain how LUNs relate to the storage system
Describe the Fibre Channel (FC) and iSCSI SAN multipathing options for Windows and Linux-based operating systems
List the storage-system and data availability methods
Configure and administer SnapRestore®, asynchronous and synchronous SnapMirror®, MetroCluster™, SnapVault®, and Open Systems SnapVault technologies
Course Content
NCDA Overview
NFS Overview
NFS Setup
Exports and Mounts
CIFS Overview
CIFS Workgroups
CIFS Shares and Sessions
CIFS Access Control
CIFS Domains
NAS Multiprotocol
NAS Troubleshooting
SAN Overview
FC Connectivity
iSCSI Connectivity
LUN Access
Availability Overview
Snapshot Copies
SnapRestore Software
SnapVault
Open Systems SnapVault
High-Availability
MetroCluster
SnapMirror
Performance
Lab Exercises
Classroom Training
Duration 5 days
Price
(excl. tax)
Germany:

4,500.- €

Switzerland:

CHF 4,950.-




NetApp Training Units:

60 NTU
incl. catering
Digital courseware
Courseware language: English
Online Training
Duration 5 days
Price
(excl. tax)
Digital courseware
Courseware language: English
Click on town name to book
Schedule
This is a
FLEX
course, which is delivered both virtually and in the classroom.
Germany
Currently no local training dates available. For enquiries please write to info@flane.de.
FLEX Training
Please see below our alternative, English language, FLEX course options.
21/10/2019 - 25/10/2019
FLEX training
This is an English language FLEX course.


Time zone: Europe/Ljubljana
08/12/2019 - 12/12/2019
FLEX training
This is an English language FLEX course.


Time zone: Asia/Jerusalem
US$ 2,250.-
Europe
Portugal
Slovenia
21/10/2019 - 25/10/2019
FLEX training
This is an English language FLEX course.


Time zone: Europe/Ljubljana
Spain
Middle East
Israel
08/12/2019 - 12/12/2019
FLEX training
This is an English language FLEX course.


Time zone: Asia/Jerusalem
US$ 2,250.-