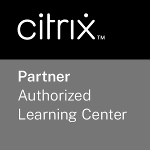 Citrix XenServer 7.1 LTSR Administration (CXS-301)
Course Overview
In diesem Kurs erlangen Sie umfangreiches Wissen über den Citrix XenServer, unter anderem mit Fokus auf den Long Term Service Release und eine damit verbundene optimierte Servervirtualisierung. In diesem 5 Tages Kurs lernen Sie den XenServer in einer Unternehmensumgebung kennen. Dieser Kurs führt Sie durch die Installation und Konfiguration einer solchen Umgebung, von der Architektur über virtuelle Maschinen bis hin zu Ressource Pools, Storage und Netzwerken.
Who should attend
Dieser Kurs richtet sich an IT Professionals, die eine XenServer Umgebung designen, installieren, verwalten und supporten. Angesprochen werden auch Administratoren, Engineers und Architekten die mit Citrix XenServer oder XenApp/XenDesktop Infrastruktur-Workloads bereitstellen möchten.
Prerequisites
Grundkenntnisse im Umgang mit Citrix XenServer sind von Vorteil, aber nicht zwingend notwendig.
Course Content
Verstehen der XenServer Architektur sowie deren Features in praxisrelevanten Einsatzszenarien
Konfiguration und Verwaltung von virtuellen Maschinen
Installation, Konfiguration und Verwaltung des XenServers sowie der XenServer Umgebung
Konfiguration von Ressource Pools und High availability in einer XenServer Umgebung
Konfiguration von Netzwerken
Storage und Sicherheit für einen XenServer
Troubleshooting einer XenServer Umgebung
Classroom Training
Duration 5 days
Price
(excl. tax)
Courseware language: English
Click on town name to book
Schedule
This computer icon in the schedule indicates that this date/time will be conducted as Instructor-Led Online Training.
This is a
FLEX
course, which is delivered both virtually and in the classroom.
Germany
FLEX Training
Please see below our alternative, English language, FLEX course options.
02/12/2019 - 06/12/2019
FLEX training
This is an English language FLEX course.


Time zone: Europe/Sofia
13/01/2020 - 17/01/2020
FLEX training
This is an English language FLEX course.


Time zone: Europe/Prague
16/03/2020 - 20/03/2020
FLEX training
This is an English language FLEX course.


Time zone: Europe/Zagreb
25/05/2020 - 29/05/2020
FLEX training
This is an English language FLEX course.


Time zone: Europe/Ljubljana
21/09/2020 - 25/09/2020
FLEX training
This is an English language FLEX course.


Time zone: Europe/Bucharest