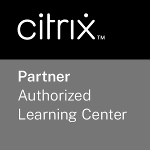 Citrix Virtual Apps and Desktops 7.1x Assessment, Design, and Advanced Configuration (CXD-410)
Who should attend
Dieser Kurs richtet sich an IT-Experten mit langjähriger Erfahrung in XenApp und XenDesktop 7.x sowie in unterstützender Infrastruktur. Dieses Training eignet sich, wenn Sie für das Design und overall health der Strukturen zuständig sind oder Andere als Consultant durch die Prozesse dieser führen.
Prerequisites
Umfangreiche Erfahrung mit XenApp und XenDesktop 7.x
Erfahrungen mit NetScaler Gateway und unterstützender Infrastruktur
Zusätzlich empfiehlt Citrix den vorherigen Besuch der folgenden Kurse:
Course Objectives
Dieser Kurs behandelt die Entwurfsprinzipien für die Erstellung einer praktischen XenApp- und XenDesktop-Virtualisierungslösung. In dieser Schulung lernen Sie, vorhandene Umgebungen zu bewerten und erarbeiten verschiedene Szenarien um die Anforderungen der Geschäftsprozesse mit Designentscheidungen zu verlinken. Dieser Kurs folgt dem Citrix Consulting Ansatz und bringt Ihnen die Schlüssel-Designentscheidungen durch Vorträge, Laborübungen und interaktive Diskussionen näher. Darüber hinaus lernen Sie auch weitere Überlegungen und erweiterte Konfigurationen bezüglich Lösungen mit mehreren Standorten sowie der Disaster Recovery-Planung kennen.
Course Content
Design Methodik und Bereitschaftsbewertung
Benutzerstandort und Konnektivität
Zugriffsarchitektur und Store Design
Zugriffsbeschränkung, Redundanz und Sicherheit
Image-Management: Strategie und Design
Application Delivery
Personalisierungs-Design
XenApp und XenDesktop Seiten- und Verwaltungsdesign
Physisches Ressourcendesign
Hochverfügbarkeit und Multi-Location-Lösungen
Disaster Recovery: Planung und Design
Classroom Training
Duration 5 days
Price
(excl. tax)
Courseware language: English
Click on town name to book
Schedule
Fast Lane will carry out all guaranteed training regardless of the number of attendees, exempt from force majeure or other unexpected events, like e.g. accidents or illness of the trainer, which prevent the course from being conducted.
This computer icon in the schedule indicates that this date/time will be conducted as Instructor-Led Online Training.
This is a
FLEX
course, which is delivered both virtually and in the classroom.
FLEX Training
Please see below our alternative, English language, FLEX course options.
01/06/2020 - 05/06/2020
FLEX training
This is an English language FLEX course.


Time zone: Europe/London
31/08/2020 - 04/09/2020
FLEX training
This is an English language FLEX course.


Time zone: Europe/Belgrade
19/10/2020 - 23/10/2020
FLEX training
This is an English language FLEX course.


Time zone: Europe/Vilnius
North America
United States
21/10/2019 - 25/10/2019
Online Training
Time zone: US/Eastern
Course language:

English
guaranteed date!
02/12/2019 - 06/12/2019
Online Training
Time zone: US/Eastern
Course language:

English
Latin America
Mexico
11/11/2019 - 15/11/2019
FLEX training
This is an Spanish language FLEX course.


Time zone: America/Mexico_City