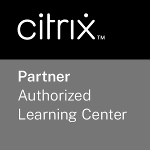 Citrix Virtual Apps and Desktops Service on Microsoft Azure (CXD-251)
Course Overview
Learn to deploy and manage your Citrix Virtual Apps and Desktops apps and desktops in Microsoft Azure. Gain the skills to plan your machine catalog and virtual machine design based in Microsoft's public cloud and get hands-on practice deploying those machines using Machine Creation Services. You will also learn about additional Azure considerations including maintenance and power management which are critical in a cloud environment. For remote access, you will learn to configure Citrix StoreFront and Citrix Gateway on the Azure platform. This course focuses on Microsoft Azure as a Citrix Cloud resource location however concepts are relevant to both Citrix Cloud and fully managed Citrix Virtual Apps and Desktops sites.
Prerequisites
Citrix course materials are only available to delegates in e-courseware format. Delegates will be provided with instructions on how to access their e-courseware on day one of the event. Those delegates who are attending via either virtual or extended classroom will be required to provide either three monitors (to view courseware, labs and instructor demos simultaneously) or two monitors and a mobile device. Delegates will be required to have an active TCC (Training.Citrix.com) account in order to access course materials and labs.
Classroom Training
Duration 2 days
Price
(excl. tax)
Courseware language: English
Click on town name to book
Schedule
This computer icon in the schedule indicates that this date/time will be conducted as Instructor-Led Online Training.
This is a
FLEX
course, which is delivered both virtually and in the classroom.
Germany
FLEX Training
Please see below our alternative, English language, FLEX course options.
12/12/2019 - 13/12/2019
FLEX training
This is an English language FLEX course.


Time zone: Europe/Budapest
23/12/2019 - 24/12/2019
FLEX training
This is an English language FLEX course.


Time zone: Europe/London
29/01/2020 - 30/01/2020
FLEX training
This is an English language FLEX course.


Time zone: Asia/Istanbul
06/04/2020 - 07/04/2020
FLEX training
This is an English language FLEX course.


Time zone: Europe/Zagreb
24/09/2020 - 25/09/2020
FLEX training
This is an English language FLEX course.


Time zone: Europe/Bucharest
12/11/2020 - 13/11/2020
FLEX training
This is an English language FLEX course.


Time zone: Europe/Ljubljana
Switzerland
North America
United States
19/12/2019 - 20/12/2019
Online Training
Time zone: US/Eastern
Course language:

English
16/01/2020 - 17/01/2020
Online Training
Time zone: US/Eastern
Course language:

English
13/02/2020 - 14/02/2020
Online Training
Time zone: US/Eastern
Course language:

English
05/03/2020 - 06/03/2020
Online Training
Time zone: US/Eastern
Course language:

English
Latin America
Mexico
05/12/2019 - 06/12/2019
FLEX training
This is an Spanish language FLEX course.


Time zone: America/Mexico_City