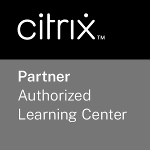 Citrix Enterprise Security Solutions (CTX-270)
Course Overview
Learn to secure your Citrix environment in this hands-on course that encompasses the core Citrix technologies, including XenApp and XenDesktop, NetScaler, XenMobile, ShareFile, and Citrix Cloud. Explore potential security gaps in your environment and learn how to mitigate these through a comprehensive look at the Citrix technologies. Topics include application and data security, Citrix authentication, authorization, and auditing workflows, operating system hardening, mitigation against network vulnerabilities, hypervisor security, and methods to secure Citrix traffic.
Who should attend
Built for IT Professionals familiar with the following products XenApp, XenDesktop, NetScaler, XenMobile, and/or ShareFile. Potential students include: administrators, engineers, and architects interested in securing a Citrix environment.
Prerequisites
Citrix recommends students have basic understanding, and hands-on experience with installing and configuring XenApp, XenDesktop, Citrix Cloud, NetScaler, XenMobile, or ShareFile. Recommended courses, or equivalent field experience.
Course Objectives
Understand Citrix authentication and authorization workflows with multifactor authentication:
Identify methods for desktop and application hardening with registry and policy lockdowns
Identify network attacks and learn how to protect your network and mobile environment
Learn to optimize monitoring and operations with Citrix leading security practices
Classroom Training
Duration 5 days
Price
(excl. tax)
Courseware language: English