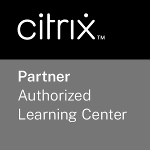 Citrix (NetScaler) Networking Assessment, Design, and Advanced Configuration (CNS-420)
Course Overview
In diesem Experten-Kurs lernen Sie fortgeschrittene NetScaler Netzwerk-Konzepte und -Konfigurationen kennen.
Durch Vorträge, Laborübungen und Fallstudien aus der Praxis lernen Sie, Ihre Umgebung kritisch zu betrachten hinsichtlich der Anforderungen, Einschränkungen und Business-Treiber, um eine komplexe Citrix-Netzwerklösung zu kreieren.
Dieser Kurs umfasst die Themen Multi-Site- und Multi-Tenant-Bereitstellungen, erweiterte Authentifizierung, Load Balancing, Automatisierung, Orchestrierung und erweitertes Troubleshooting. Zusätzlich bereitet Sie dieser Kurs auf das Examen für die Zertifizierung des Citrix Certified Expert in Networking (CCE-N) vor.
Who should attend
Dieser Kurs richtet sich an IT-Experten mit umfassender Netzwerk und NetScaler Erfahrung, die für die Definierung der Gesamtstruktur/Architektur einer Citrix Netzwerkumgebung verantwortlich sind. Darüber hinaus umfasst dieser Kurs erweiterte Citrix Netzwerk-Konfigurationen und führende Citrix Design-Prinzipien.
Prerequisites
Es werden umfangreiche Netzwerk und NetScaler Erfahrungen vorrausgesetzt.
Wir empfehlen Ihnen die folgenden, vorbereitenden Kurse:
Course Content
Vernetzungsmethodik und Bewertung
NetScaler-Bereitstellung, Architektur und Topologie
Erweiterte Authentifizierung und Autorisierung
NetScaler Security
VPN Konfiguration
Erweitertes Traffic Management
Global Server Load Balancing
NMAS-Automatisierung und -Orchestrierung
Erweitertes Troubleshooting
Classroom Training
Duration 5 days
Price
(excl. tax)
Courseware language: English
Click on town name to book
Schedule
Fast Lane will carry out all guaranteed training regardless of the number of attendees, exempt from force majeure or other unexpected events, like e.g. accidents or illness of the trainer, which prevent the course from being conducted.
This computer icon in the schedule indicates that this date/time will be conducted as Instructor-Led Online Training.
This is a
FLEX
course, which is delivered both virtually and in the classroom.
Germany
FLEX Training
Please see below our alternative, English language, FLEX course options.
02/12/2019 - 06/12/2019
FLEX training
This is an English language FLEX course.


Time zone: Europe/Sofia
24/02/2020 - 28/02/2020
FLEX training
This is an English language FLEX course.


Time zone: Europe/Prague
25/05/2020 - 29/05/2020
FLEX training
This is an English language FLEX course.


Time zone: Europe/Ljubljana
14/09/2020 - 18/09/2020
FLEX training
This is an English language FLEX course.


Time zone: Europe/Bucharest
16/11/2020 - 20/11/2020
FLEX training
This is an English language FLEX course.


Time zone: Europe/Zagreb
Switzerland
North America
United States
11/11/2019 - 15/11/2019
Online Training
Time zone: US/Eastern
Course language:

English
27/01/2020 - 31/01/2020
Online Training
Time zone: US/Eastern
Course language:

English
16/03/2020 - 20/03/2020
Online Training
Time zone: US/Eastern
Course language:

English