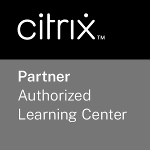 Citrix ADC 12.x Essentials (CNS-218)
Course Content
Upon successful completion of this course, students will be able to:
Understand the functionality and capabilities of the NetScaler
Comprehend basic NetScaler network architecture
Identify the distinguishing use cases for each NetScaler platform
Complete the initial setup and configuration of the NetScaler appliance
Explain how SSL is used to secure the NetScaler
Understand NetScaler Load Balancing and High Availability configuration options and management
Employ recommended tools and techniques to troubleshoot common NetScaler network and connectivity issues
Classroom Training
Duration 3 days
Price
(excl. tax)
Courseware language: English
Click on town name to book
Schedule
This computer icon in the schedule indicates that this date/time will be conducted as Instructor-Led Online Training.
This is a
FLEX
course, which is delivered both virtually and in the classroom.
Germany
FLEX Training
Please see below our alternative, English language, FLEX course options.
20/01/2020 - 22/01/2020
FLEX training
This is an English language FLEX course.


Time zone: Europe/Budapest
04/05/2020 - 06/05/2020
FLEX training
This is an English language FLEX course.


Time zone: Asia/Istanbul
21/09/2020 - 23/09/2020
FLEX training
This is an English language FLEX course.


Time zone: Europe/Ljubljana
02/12/2020 - 04/12/2020
FLEX training
This is an English language FLEX course.


Time zone: Europe/Sofia
Switzerland