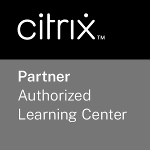 Manage Citrix Endpoint Management (CEM-205)
Course Overview
In diesem Kurs lernen Sie, wie Sie Citrix Endpoint Management verwalten. Sie begeben sich in die Cloud und lernen Geräte, Apps und Benutzer zu verwalten. Desweiteren lernen Sie, wie die Architektur, das Management und der Kommunikationfluss mit Citrix Endpoint Manament funktioniert und wie Sie diese Ihren Organisationsbedürfnissen anpassen können. Darüber hinaus lernen Sie auch die Citrix Endpoint Managment-Umgebung zu verwalten, Ihre End-User zu unterstützen sowie mit Apps zu arbeiten und eine Vielzahl von Endpunkten zu sichern.
Who should attend
Dieser Kurs richtet sich an Administratoren und Implementierer, die an der Verwaltung von Citrix Endpoint Management in einer lokalen oder Cloud-Umgebung interessiert sind.
Prerequisites
Erfahrung mit Microsoft Windows Server 2012 R2, Windows Server 2008 R2 und Microsoft Windows 8.1 oder Windows 7
Erfahrung mit Betriebssystemen für mobile Geräte wie iOS und Android
Kenntnisse in Netzwerk-Architektur und -Terminologie
Course Content
Einführung in Citrix Endpoint Management
Citrix Endpoint Management - Architektur
Cloud Komponenten
Allgemeine Geräte-Verwaltungsaufgaben
Geräte-Anmeldung
Verwalten der Gerätesicherheit
Arbeiten mit Apps
Integration von Citrix Content Collaboration
Wartung und Troubleshooting
Überwachung und Reporting
Classroom Training
Duration 3 days
Price
(excl. tax)
Courseware language: English
Click on town name to book
Schedule
This computer icon in the schedule indicates that this date/time will be conducted as Instructor-Led Online Training.
This is a
FLEX
course, which is delivered both virtually and in the classroom.
FLEX Training
Please see below our alternative, English language, FLEX course options.
16/12/2019 - 18/12/2019
FLEX training
This is an English language FLEX course.


Time zone: Europe/Sofia
27/01/2020 - 29/01/2020
FLEX training
This is an English language FLEX course.


Time zone: Europe/Belgrade
23/03/2020 - 25/03/2020
FLEX training
This is an English language FLEX course.


Time zone: Europe/Sofia
25/05/2020 - 27/05/2020
FLEX training
This is an English language FLEX course.


Time zone: Asia/Istanbul
19/10/2020 - 21/10/2020
FLEX training
This is an English language FLEX course.


Time zone: Europe/Bucharest
Latin America
Mexico
06/01/2020 - 08/01/2020
FLEX training
This is an Spanish language FLEX course.


Time zone: America/Mexico_City
20/05/2020 - 22/05/2020
FLEX training
This is an Spanish language FLEX course.


Time zone: America/Mexico_City