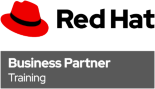 Automation with Ansible I + EX407 (DO408)
Kursüberblick
Automation with Ansible with exam (DO408) richtet sich an Systemadministratoren, die Ansible zur Automatisierung, Konfiguration und Verwaltung einsetzen möchten. In diesem Kurs lernen Sie, wie Sie Ansible installieren und konfigurieren, Playbooks zur Konfiguration von Systemen erstellen und ausführen und Inventorys verwalten.
Dieser Kurs umfasst das Red Hat Certified Specialist in Ansible Automation Exam (EX407).
Dieser Kurs basiert auf Red Hat® Enterprise Linux® 7.3 und Ansible 2.3.
Zielgruppe
System- und Cloud-Administratoren, die Cloud-Bereitstellung, Konfigurationsmanagement, Anwendungsbereitstellung, dienstinterne Orchestrierung und andere IT-Prozesse automatisieren müssen.
Zertifizierungen
Empfohlenes Training für die Zertifizierung zum:
Voraussetzungen
Zertifizierung als Red Hat Certified System Administrator (RHCSA) oder gleichwertige Kenntnisse
Kursziele
Auswirkungen auf die Organisation
In diesem Kurs erlernen Sie die Fertigkeiten für die Implementierung von Ansible in einer Betriebs- oder Cloud Computing-Umgebung. Diese Fertigkeiten eignen sich für Unternehmen, die durch Implementierung der DevOps-Methodologie mit Ansible Kosteneinsparungen realisieren und ihre Betriebseffizienz steigern möchten.
Red Hat hat diesen Kurs in erster Linie für seine Kunden entwickelt. Da aber jedes Unternehmen, jede Infrastruktur anders ist, kann es sein, dass die gezeitigten Vorteile von Fall zu Fall variieren.
Auswirkungen auf den Einzelnen
Die Kursteilnehmer sollten in der Lage sein, Ansible zum Zwecke der Automatisierung, Konfiguration und Verwaltung einer DevOps-Umgebung zu implementieren.
Die Kursteilnehmer sollten in der Lage sein, die folgenden Aufgaben auszuführen:
Automatisierung von Systemadministrationsaufgaben auf verwalteten Hosts mit Ansible
Schreiben von Ansible Playbooks zur Standardisierung der Aufgabenausführung
Zentrale Verwaltung der Playbook-Ausführung mit Ansible Tower
Kursinhalt
Die Teilnehmer lernen anhand praxisorientierter Übungen die Automatisierung von Aufgaben der Systemadministration auf Managed Hosts mit Ansible und erfahren, wie sie Ansible-Playbooks zur standardisierten Ausführung von Aufgaben schreiben, Playbooks zentral verwalten und die wiederholte Ausführung mit Ansible Tower über ein Web-Interface planen können. Darüber hinaus lernen die Teilnehmer die Verwaltung der Verschlüsselung für Ansible mit Ansible Vault, die Bereitstellung von Ansible Tower und dessen Einsatz zur Systemverwaltung sowie den Einsatz von Ansible in einer DevOps-Umgebung mit Vagrant.
Überblick über den Kursinhalt
Installation von und Problembehebung in Ansible auf zentralen Knoten und Managed Hosts
Verwendung von Ansible zur Ausführung von Adhoc-Befehlen und Playbooks zur Automatisierung von Aufgaben
Erstellung effektiver Ansible-Playbooks
Schutz für Aufgaben benötigter verschlüsselter Daten mit Ansible Vault
Verwendung von Ansible Tower für die einfachere Verwaltung von Ansible-Bereitstellungen im Unternehmen
Arbeiten mit Ansible und Vagrant in einer DevOps-Umgebung
Classroom Training
Dauer 5 Tage
Preis
(exkl. MwSt.)
Deutschland:

3.245,- €

Schweiz:

3.302,- €
Derzeit gibt es keine Trainingstermine für diesen Kurs. Termin anfragen