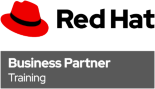 Build and Administer APIs with Red Hat 3Scale API Management with Exam (EX240) (AD241)
Kursüberblick
Build and Administer APIs with Red Hat 3scale API Management with Exam (JB241) ist ein Kurs mit praktischen Labs, der Entwickler und Administratoren in das Management von APIs mit unseren Technologien einführt. Diese Kenntnisse werden anschließend geprüft. Mithilfe von Red Hat® 3scale API Management können Entwickler und Administratoren APIs monetarisieren, verwalten und dokumentieren.
Dieser Kurs basiert auf Red Hat 3scale API Management 2.4. Das Red Hat Certified Specialist in API Management Exam (EX240) ist ebenfalls in diesem Kurs enthalten.
Zielgruppe
API-Entwickler, die 3scale API Management für die API-Fakturierung verwenden sowie Sicherheits- und Zugangskontrollfunktionen einrichten möchten
Systemarchitekten und Administratoren, die ein Portal zur Monetarisierung von APIs erstellen möchten
Voraussetzungen
Erfahrung mit APIs und dem Testen von APIs
Erfahrung mit Containern und Red Hat® OpenShift ist nützlich, aber nicht vorgeschrieben
Kursziele
Auswirkungen auf die Organisation
APIs haben in der Softwareprogrammierung aufgrund von agilen Entwicklungspraktiken, Microservice-Architekturen und der digitalen Transformation enorm an Bedeutung gewonnen. Laut Forrester werden 40 % aller US-Unternehmen bis 2020 über eine API-Managementlösung verfügen. Durch Plattformen wie Red Hat 3scale API Management können Organisationen ihren Kundennutzen mithilfe von APIs auf einfache Weise steigern. In diesem Kurs/Exam werden die Fertigkeiten vermittelt und geprüft, die Sie zur Entwicklung sicherer, skalierbarer und zuverlässiger APIs benötigen, die mit 3scale API Management verwaltet werden.
Red Hat hat diesen Kurs in erster Linie für seine Kunden entwickelt. Da aber jedes Unternehmen, jede Infrastruktur anders ist, kann es sein, dass die tatsächlichen Ergebnisse oder Vorteile von Fall zu Fall variieren.
Auswirkungen auf den Einzelnen
Nach diesem Kurs verstehen Sie die Architektur und Funktionen von 3scale API Management, und Sie können:
APIs erstellen, verwalten und monetarisieren
Subskriptionspläne einrichten und konfigurieren
API-Managementintegration konfigurieren und testen
Rate Limits für APIs konfigurieren
Kursinhalt
Funktionen für das API-Management werden immer wichtiger, da die Unternehmen APIs immer häufiger einsetzen, um einen direkt programmierbaren Zugriff auf ihre Services, Daten und Prozesse zu erhalten. In diesem Kurs werden die Features von Red Hat 3scale API Management vorgestellt und die Erstellung und Verwaltung eines Entwickler-Portals mit folgenden Funktionen erläutert:
Signup-Workflows für Endnutzer
ActiveDocs-Dokumentation
Benutzerdefinierte Workflows
Rate Limits
SOAP und ODATA Web Services
Indem Sie sich mit diesen und anderen Features vertraut machen, erfahren Sie, warum 3scale API Management eine entscheidende Rolle bei der digitalen Transformation und agilen Integration spielt.
Überblick über den Kursinhalt
Architektur und Hauptfunktionen von 3scale API Management
Typische API Use Cases und Strategien
Bereitstellungsoptionen beim 3scale API Management
Ausarbeitung und Konfiguration von Subskriptionsplänen
Konfiguration und Test der API-Managementintegration
Konfiguration eines Entwickler-Portals
Einrichtung der Red Hat SSO-Integration
Online Training
Dauer 4 Tage
Preis
(exkl. MwSt.)
Sprache der Kursunterlagen: Englisch
Classroom Training
Dauer 4 Tage
Preis
(exkl. MwSt.)
Deutschland:

2.770,- €

Schweiz:

2.770,- €
Sprache der Kursunterlagen: Englisch
Derzeit gibt es keine Trainingstermine für diesen Kurs. Termin anfragen