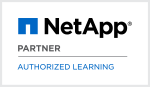 OnCommand Insight: Intelligent Operation (OCIIO)
Zielgruppe
This course is intended as an introductory course for end users, as well as internal NetApp sales and partner resellers.
Voraussetzungen
OnCommand Insight Technical Overview (Recommend/not required)
Kursziele
Create near-time visual representations of data infrastructure components
Create Storage Area Network infrastructure policies and alerts
Create data infrastructure performance policies and alerts
Troubleshoot performance issues within a data infrastructure
Associate compute components with applications for application infrastructure performance monitoring and troubleshooting
Integrate new assets into an OnCommand Insight environment
Kursinhalt
OnCommand Insight: Intelligent Operation is a 2 day course that allows you to become familiar with some of the most important features of OnCommand Insight relevant to the day-to-day management, monitoring and trouble-shooting of data infrastructures. You will learn the features of OnCommand Insight that aid in daily administrative tasks, specifically related to common storage administration issues and the features useful to resolving those issues. You will also learn how to add new assets to an OnCommand Insight monitored infrastructure. This course will support OCI version 7.2 and targets those who are responsible for using OCI for Diagnostic Analytics around ensuring availability, troubleshooting the environment, resolving issues, meeting service levels and removing risk.
Zum Buchen bitte auf den Ortsnamen klicken
Kurstermine
Fast Lane wird alle garantierten Termine unabhängig von der Teilnehmerzahl durchführen. Ausgenommen sind höhere Gewalt oder andere unvorhersehbare Ereignisse (wie z.B. Unfall, Krankheit des Trainers), die eine Kursdurchführung unmöglich machen.
Dies ist ein Instructor-led Online Training, das über WebEx in einer VoIP Umgebung durchgeführt wird. Sollten Sie Fragen zu einem unserer Online-Kurse haben, können Sie uns jederzeit unter +49 (0)40 25334610 oder per E-Mail an info@flane.de kontaktieren.
Dies ist ein
FLEX
™-Kurs. Sie können an einem
FLEX
Training sowohl bei uns vor Ort im Klassenraum als auch über das Internet von Ihrem Arbeitsplatz oder von zu Hause aus teilnehmen.
Nordamerika
USA
12.08. - 13.08.2019
Online Training
Zeitzone: US/Pacific
Kurssprache: englisch
Garantietermin!
14.10. - 15.10.2019
Online Training
Zeitzone: US/Eastern
Kurssprache: englisch
09.12. - 10.12.2019
Online Training
Zeitzone: US/Central
Kurssprache: englisch
Kanada
Asien & Pazifik
Australien
04.11. - 05.11.2019
FLEX™ Training
Dies ist ein FLEX™-Kurs in englisch.


Zeitzone: Australia/Melbourne
Mittlerer Osten
Israel
03.11. - 04.11.2019
FLEX™ Training
Dies ist ein FLEX™-Kurs in englisch.


Zeitzone: Asia/Jerusalem
US$ 900,-