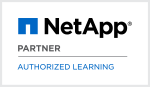 OnCommand Insight: Intelligent Operation (OCIIO)
Zielgruppe
This course is intended as an introductory course for end users, as well as internal NetApp sales and partner resellers.
Voraussetzungen
OnCommand Insight: Fundamentals - WBT (Required)
Kursziele
Create near-real-time visualizations of data infrastructure
Implement and monitor policies for data-path infrastructure
Locate potential delays in network performance
Perform root cause analysis of issues that degrade performance
Implement proactive application-level performance monitoring
Identify the NFS client hosts that contend for resources
Seamlessly integrate new assets into a data infrastructure
Kursinhalt
In this course, you become familiar with some of the most important features of NetApp OnCommand Insight, relevant to the day-to-day management, monitoring, and troubleshooting of data infrastructures. The course concentrates on the Insight features that aid in daily system administration tasks. If you are interested in Insight features that relate to business reporting or IT department integration you should look for course offerings specific to those topics. The course takes you through a typical storage administration issue and the Insight features that you can use to resolve that issue. By learning how to resolve specific administration problems, you should gain a basic understanding of how to extend the Insight feature set to other issues. You will also learn how to add new assets to an Insight monitored infrastructure.
Classroom Training
Dauer 2 Tage
Preis
(exkl. MwSt.)
Deutschland:

1.800,- €

Schweiz:

CHF 1.980,-




NetApp Training Units:

24 NTU
inkl. Verpflegung
Digitale Kursunterlagen
Sprache der Kursunterlagen: englisch
Zum Buchen bitte auf den Ortsnamen klicken
Kurstermine
Mit der nächsten Buchung wird dieser Termin zu einem Garantietermin.
Dies ist ein Instructor-led Online Training, das über WebEx in einer VoIP Umgebung durchgeführt wird. Sollten Sie Fragen zu einem unserer Online-Kurse haben, können Sie uns jederzeit unter +49 (0)40 25334610 oder per E-Mail an info@flane.de kontaktieren.
Dies ist ein
FLEX
™-Kurs. Sie können an einem
FLEX
Training sowohl bei uns vor Ort im Klassenraum als auch über das Internet von Ihrem Arbeitsplatz oder von zu Hause aus teilnehmen.
Deutschland
FLEX™ Training
Please see below our alternative, English language, FLEX™ course option
Schweiz
Nordamerika
USA
09.12. - 10.12.2019
Online Training
Zeitzone: US/Central
Kurssprache:

englisch
20.01. - 21.01.2020
Online Training
Zeitzone: US/Central
Kurssprache:

englisch
23.03. - 24.03.2020
Online Training
Zeitzone: US/Eastern
Kurssprache:

englisch
01.06. - 02.06.2020
Online Training
Zeitzone: US/Pacific
Kurssprache:

englisch
17.08. - 18.08.2020
Online Training
Zeitzone: US/Central
Kurssprache:

englisch
19.10. - 20.10.2020
Online Training
Zeitzone: US/Pacific
Kurssprache:

englisch
Asien & Pazifik
Australien
11.11. - 12.11.2019
FLEX™ Training
Dies ist ein FLEX™-Kurs in englisch.


Zeitzone: Australia/Melbourne