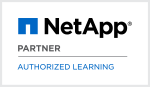 OnCommand Insight: Business Insights (OCIBI)
Zielgruppe
Customers
Infrastructure Engineer
NetApp Partners
Sales Engineers
Kursziele
Describe general organizational-based reporting needs
Use queries, widgets, and dashboards to display day-to-day operational reporting information
Describe the OnCommand Insight data warehouse structure (DWH)
Address business reporting requirements relating to chargeback, virtualization, and storage pool topics
Describe where to find data warehouse reference documentation and how to maintain a healthy data warehouse
Kursinhalt
In this course you will become familiar with some of the most important features of OnCommand Insight relevant to the day-to-day management, monitoring, and trouble-shooting of data infrastructures. This course concentrates on the reporting features of OnCommand Insight and the OnCommand Insight Data Warehouse. This course demonstrates how to use OnCommand Insight to perform operational reporting that aid in daily administrative tasks. This course will also demonstrate how to use IBM Cognos Workspace Advanced to perform Business Reporting. You will also learn how to create customized reports and a basic understanding of how to extend Insight to meet other business reporting needs.
Classroom Training
Dauer 2 Tage
Preis
(exkl. MwSt.)
Deutschland:

1.800,- €

Schweiz:

CHF 1.980,-




NetApp Training Units:

24 NTU
inkl. Verpflegung
Digitale Kursunterlagen
Sprache der Kursunterlagen: englisch
Zum Buchen bitte auf den Ortsnamen klicken
Kurstermine
Fast Lane wird alle garantierten Termine unabhängig von der Teilnehmerzahl durchführen. Ausgenommen sind höhere Gewalt oder andere unvorhersehbare Ereignisse (wie z.B. Unfall, Krankheit des Trainers), die eine Kursdurchführung unmöglich machen.
Dies ist ein Instructor-led Online Training, das über WebEx in einer VoIP Umgebung durchgeführt wird. Sollten Sie Fragen zu einem unserer Online-Kurse haben, können Sie uns jederzeit unter +49 (0)40 25334610 oder per E-Mail an info@flane.de kontaktieren.
Dies ist ein
FLEX
™-Kurs. Sie können an einem
FLEX
Training sowohl bei uns vor Ort im Klassenraum als auch über das Internet von Ihrem Arbeitsplatz oder von zu Hause aus teilnehmen.
Deutschland
FLEX™ Training
Please see below our alternative, English language, FLEX™ course option
Schweiz
Nordamerika
USA
11.12. - 12.12.2019
Online Training
Zeitzone: US/Central
Kurssprache:

englisch
Garantietermin!
22.01. - 23.01.2020
Online Training
Zeitzone: US/Central
Kurssprache:

englisch
25.03. - 26.03.2020
Online Training
Zeitzone: US/Eastern
Kurssprache:

englisch
03.06. - 04.06.2020
Online Training
Zeitzone: US/Pacific
Kurssprache:

englisch
19.08. - 20.08.2020
Online Training
Zeitzone: US/Central
Kurssprache:

englisch
21.10. - 22.10.2020
Online Training
Zeitzone: US/Pacific
Kurssprache:

englisch