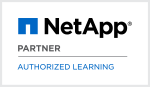 Integrating Hybrid Clouds with NetApp Data Fabric (INTHCDF)
Kursüberblick
This course familiarizes you with NetApp hybrid cloud, Microsoft Azure, and Amazon Web Services (AWS) solutions and shows you how to weave the solutions into the Data Fabric powered by NetApp. In numerous exercises, you use NetApp tools and third-party tools to practice how to manage, move, and protect data throughout the cloud.
Zielgruppe
NetApp Employees, Partners and Customers
Zertifizierungen
Empfohlenes Training für die Zertifizierung zum:
Kursziele
This course focuses on enabling you to do the following:
Explain the value of the Data Fabric and NetApp Private Storage for Cloud (NPS for Cloud)
Describe NetApp Private Storage (NPS) networking requirements
Deploy a hybrid cloud for customers
Configure an Amazon Virtual Private Cloud (VPC) environment and an Azure Virtual Network (VNet) environment for the hybrid cloud
Use Windows PowerShell in a Data Fabric environment and extend customers' Microsoft Active Directory into the cloud
Explain the features of NetApp Cloud Volumes ONTAP software and NetApp ONTAP Select software
Use NetApp Cloud Central to deploy OnCommand Cloud Manager and Cloud Volumes ONTAP
Create SnapMirror relationships between Cloud Volumes ONTAP and ONTAP in the data center
Use the Cloud Sync service to synchronize NFS data between on-premises storage and cloud-based storage
Weiterführende Kurse
Classroom Training
Dauer 3 Tage
Preis
(exkl. MwSt.)
Deutschland:

2.700,- €

Schweiz:

CHF 2.970,-




NetApp Training Units:

36 NTU
inkl. Verpflegung
Digitale Kursunterlagen
Sprache der Kursunterlagen: englisch
Zum Buchen bitte auf den Ortsnamen klicken
Kurstermine
Fast Lane wird alle garantierten Termine unabhängig von der Teilnehmerzahl durchführen. Ausgenommen sind höhere Gewalt oder andere unvorhersehbare Ereignisse (wie z.B. Unfall, Krankheit des Trainers), die eine Kursdurchführung unmöglich machen.
Mit der nächsten Buchung wird dieser Termin zu einem Garantietermin.
Dies ist ein Instructor-led Online Training, das über WebEx in einer VoIP Umgebung durchgeführt wird. Sollten Sie Fragen zu einem unserer Online-Kurse haben, können Sie uns jederzeit unter +49 (0)40 25334610 oder per E-Mail an info@flane.de kontaktieren.
Dies ist ein
FLEX
™-Kurs. Sie können an einem
FLEX
Training sowohl bei uns vor Ort im Klassenraum als auch über das Internet von Ihrem Arbeitsplatz oder von zu Hause aus teilnehmen.
Nordamerika
USA
08.10. - 10.10.2019
Online Training
Zeitzone: US/Eastern
Kurssprache:

englisch
Dieser Termin ist momentan leider ausgebucht.
Sie werden auf einer Warteliste platziert.
05.11. - 07.11.2019
Online Training
Zeitzone: US/Pacific
Kurssprache:

englisch
Garantietermin!
03.12. - 05.12.2019
Online Training
Zeitzone: US/Central
Kurssprache:

englisch
Kanada
Asien & Pazifik
Indien
11.11. - 14.11.2019
FLEX™ Training
Dies ist ein FLEX™-Kurs in englisch.


Zeitzone: Asia/Calcutta
4 Tage
03.12. - 06.12.2019
FLEX™ Training
Dies ist ein FLEX™-Kurs in englisch.


Zeitzone: Asia/Calcutta
4 Tage