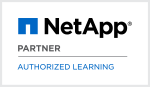 Implementing VMware vSphere on Data ONTAP (IMPVMVS)
Zielgruppe
NetApp employees, channel partners, and customers
Voraussetzungen
The following training classes or equivalent knowledge are recommended:
Kursziele
By the end of this course, you should be able to:
Describe the VMware vSphere 6.0 virtualization solution
Articulate the NetApp value proposition for integrating clustered Data ONTAP with vSphere 6.0
Configure physical and virtual infrastructures
Use the clustered Data ONTAP operating system to provision virtual infrastructure
Create, migrate, and clone virtual machines
Describe the Virtual Volumes datastore-management process
Protect virtual infrastructure
Monitor and optimize virtual infrastructure
Describe best practice for connectivity, provisioning, data layout, and multipathing
Describe how deduplication, compression, and thin provisioning provide storage savings in a virtual environment
Kursinhalt
Implementing VMware vSphere on Data ONTAP (IMPVMVS) is a 3 day instructor led course where you will learn how to protect the virtual infrastructure in SAN and NAS environments as well learning how to manage storage at the virtual-machine level.
Updated features:
VMware vSphere 6
Virtual Storage console,
Virtual Volumes (VVOLs)
Knowledge Byte demo videos
Zum Buchen bitte auf den Ortsnamen klicken
Kurstermine
Mit der nächsten Buchung wird dieser Termin zu einem Garantietermin.
Dies ist ein Instructor-led Online Training, das über WebEx in einer VoIP Umgebung durchgeführt wird. Sollten Sie Fragen zu einem unserer Online-Kurse haben, können Sie uns jederzeit unter +49 (0)40 25334610 oder per E-Mail an info@flane.de kontaktieren.
Dies ist ein
FLEX
™-Kurs. Sie können an einem
FLEX
Training sowohl bei uns vor Ort im Klassenraum als auch über das Internet von Ihrem Arbeitsplatz oder von zu Hause aus teilnehmen.
Nordamerika
USA
18.04. - 20.04.2018
Online Training
Zeitzone: US/Central
Kurssprache: englisch
18.07. - 20.07.2018
Online Training
Zeitzone: US/Central
Kurssprache: englisch
17.10. - 19.10.2018
Online Training
Zeitzone: US/Central
Kurssprache: englisch
Asien & Pazifik