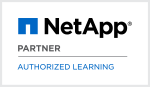 Creating and Customizing Workflows Using OnCommand Workflow Automation (CCWWFA)
Zielgruppe
NetApp customers
System Engineers
Application Engineers
Voraussetzungen
Working knowledge of clustered Data ONTAP
Kursziele
Creating and Customizing Workflows Using OnCommand Workflow Automation is a 2 day instructor led course that teaches you how to create and customize workflows to meet your organizational storage requirements by showing you how to create commands, finders, data sources, and functions. You will also learn about the NetApp PowerShell Toolkit and how it integrates with OnCommand WFA.
By the end of this course, you will be able to:
Configure OnCommand WFA
Describe OnCommand WFA design components
Create workflows
Customize workflows
Create building blocks
List Representational State Transfer (REST) API tasks and support resources
Explore the NetApp PowerShell Toolkit
Kursinhalt
Module 1: Introduction to OnCommand Workflow Automation
Module 2: Configuring OnCommand Workflow Automation
Module 3: Building Blocks and Workflow Enablers
Module 4: Designing and Running Workflows
Module 5: Refining Your Workflow
Module 6: Customizing Workflows
Module 7: Creating Building Blocks
Module 8: Representational State Transfer APIs and Support Resources
Module 9: Windows PowerShell and the NetApp PowerShell Toolkit
Labs
Classroom Training
Dauer 2 Tage
Preis
(exkl. MwSt.)
Deutschland:

1.800,- €

Schweiz:

CHF 1.980,-




NetApp Training Units:

24 NTU
inkl. Verpflegung
Digitale Kursunterlagen
Sprache der Kursunterlagen: englisch
Zum Buchen bitte auf den Ortsnamen klicken
Kurstermine
Fast Lane wird alle garantierten Termine unabhängig von der Teilnehmerzahl durchführen. Ausgenommen sind höhere Gewalt oder andere unvorhersehbare Ereignisse (wie z.B. Unfall, Krankheit des Trainers), die eine Kursdurchführung unmöglich machen.
Mit der nächsten Buchung wird dieser Termin zu einem Garantietermin.
Dies ist ein Instructor-led Online Training, das über WebEx in einer VoIP Umgebung durchgeführt wird. Sollten Sie Fragen zu einem unserer Online-Kurse haben, können Sie uns jederzeit unter +49 (0)40 25334610 oder per E-Mail an info@flane.de kontaktieren.
Dies ist ein
FLEX
™-Kurs. Sie können an einem
FLEX
Training sowohl bei uns vor Ort im Klassenraum als auch über das Internet von Ihrem Arbeitsplatz oder von zu Hause aus teilnehmen.
Deutschland
Internationale Garantietermine
31.10. - 01.11.2019
Online Training
Zeitzone: Europe/Zurich
CHF 1.771,-
Kurssprache:

englisch
Our Instructor is also speaking German! Special Promotion Price!
FLEX™ Training
Please see below our alternative, English language, FLEX™ course option
18.12. - 19.12.2019
FLEX™ Training
Dies ist ein FLEX™-Kurs in englisch.


Zeitzone: Europe/London
29.01. - 30.01.2020
FLEX™ Training
Dies ist ein FLEX™-Kurs in englisch.


Zeitzone: Europe/London
25.03. - 26.03.2020
FLEX™ Training
Dies ist ein FLEX™-Kurs in englisch.


Zeitzone: Europe/London
03.06. - 04.06.2020
FLEX™ Training
Dies ist ein FLEX™-Kurs in englisch.


Zeitzone: Europe/London
Schweiz
Europa
Bulgarien
Grossbritannien
18.12. - 19.12.2019
FLEX™ Training
Dies ist ein FLEX™-Kurs in englisch.


Zeitzone: Europe/London
29.01. - 30.01.2020
FLEX™ Training
Dies ist ein FLEX™-Kurs in englisch.


Zeitzone: Europe/London
25.03. - 26.03.2020
FLEX™ Training
Dies ist ein FLEX™-Kurs in englisch.


Zeitzone: Europe/London
03.06. - 04.06.2020
FLEX™ Training
Dies ist ein FLEX™-Kurs in englisch.


Zeitzone: Europe/London
Nordamerika
USA
10.09. - 11.09.2020
Online Training
Zeitzone: US/Pacific
Kurssprache:

englisch
15.10. - 16.10.2020
Online Training
Zeitzone: US/Eastern
Kurssprache:

englisch
16.12. - 17.12.2020
Online Training
Zeitzone: US/Central
Kurssprache:

englisch