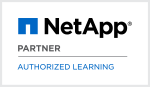 Basic NetApp Configuration and Administration (BNCA)
Zielgruppe
NetApp customers, IT generalists, and academic alliance students
Voraussetzungen
A basic knowledge of storage networking
Kursziele
List the steps to create and configure a cluster
Identify the methods to manage a cluster
Describe IPspaces, broadcast domains, and subnets
Describe SVM benefits, components, and features
Describe FlexVol volumes and efficiency features
Describe methods to access files in a cluster
Weiterführende Kurse
Kursinhalt
This two-day course provides a technical overview of the features and benefits of NetApp ONTAP 9 data-management software. The course enables you to explain the architecture and functionality of an ONTAP cluster. You will also be introduced to basic administration, configuration and management of an ONTAP cluster. Through hands-on exercises, you will learn how to create a cluster, aggregates, storage virtual machines (SVMs), LIFs, FlexVol volumes and Snapshot copies.
Zum Buchen bitte auf den Ortsnamen klicken
Kurstermine
Fast Lane wird alle garantierten Termine unabhängig von der Teilnehmerzahl durchführen. Ausgenommen sind höhere Gewalt oder andere unvorhersehbare Ereignisse (wie z.B. Unfall, Krankheit des Trainers), die eine Kursdurchführung unmöglich machen.
Dies ist ein Instructor-led Online Training, das über WebEx in einer VoIP Umgebung durchgeführt wird. Sollten Sie Fragen zu einem unserer Online-Kurse haben, können Sie uns jederzeit unter +49 (0)40 25334610 oder per E-Mail an info@flane.de kontaktieren.
Dies ist ein
FLEX
™-Kurs. Sie können an einem
FLEX
Training sowohl bei uns vor Ort im Klassenraum als auch über das Internet von Ihrem Arbeitsplatz oder von zu Hause aus teilnehmen.
Nordamerika
USA
11.07. - 12.07.2019
Online Training
Zeitzone: US/Pacific
Kurssprache: englisch
01.08. - 02.08.2019
Online Training
Zeitzone: US/Central
Kurssprache: englisch
03.09. - 04.09.2019
Online Training
Zeitzone: US/Central
Kurssprache: englisch
24.10. - 25.10.2019
Online Training
Zeitzone: US/Central
Kurssprache: englisch
25.11. - 26.11.2019
Online Training
Zeitzone: US/Central
Kurssprache: englisch
Kanada
01.08. - 02.08.2019
Online Training
Zeitzone: Canada/Central
Kurssprache: englisch
24.10. - 25.10.2019
Online Training
Zeitzone: Canada/Central
Kurssprache: englisch
Asien & Pazifik
Indien
05.08. - 06.08.2019
FLEX™ Training
Dies ist ein FLEX™-Kurs in englisch.


Zeitzone: Asia/Calcutta
03.09. - 04.09.2019
FLEX™ Training
Dies ist ein FLEX™-Kurs in englisch.


Zeitzone: Asia/Calcutta
03.10. - 04.10.2019
FLEX™ Training
Dies ist ein FLEX™-Kurs in englisch.


Zeitzone: Asia/Calcutta
04.11. - 05.11.2019
FLEX™ Training
Dies ist ein FLEX™-Kurs in englisch.


Zeitzone: Asia/Calcutta
02.12. - 03.12.2019
FLEX™ Training
Dies ist ein FLEX™-Kurs in englisch.


Zeitzone: Asia/Calcutta
Mittlerer Osten
Israel
18.09. - 19.09.2019
FLEX™ Training
Dies ist ein FLEX™-Kurs in englisch.


Zeitzone: Asia/Jerusalem
US$ 900,-
10.11. - 11.11.2019
FLEX™ Training
Dies ist ein FLEX™-Kurs in englisch.


Zeitzone: Asia/Jerusalem
US$ 900,-