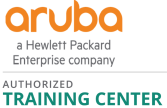 AirWave Wireless Management Suite Installation, Configuration and Use (AICU)
Kursüberblick
This hands-on course prepares you with the knowledge and experience required to install and use the AirWave Wireless Management Suite: AirWave Management Platform (AMP), RAPIDS, Visual RF, network health diagnostics, client troubleshooting, alerts and reporting. In this course, you learn about AirWave's capabilities in troubleshooting network health and client status via the various stages of association and authentication, as well as redundancy and master consoles for large networks.
Zielgruppe
Ideal candidates are Network Administrators who monitor and troubleshoot wireless networks, and Network and System Administrators responsible for installing and configuring network monitoring systems.
Kursziele
After you successfully complete this course, expect to be able to:
Install AWMS 8.x
Demonstrate adding devices on the network to the Airwave Management Server
Understand Visual RF heatmaps and location information
Demonstrate how to troubleshoot wireless network issues using Airwave
Understand how to use RAPIDS to identify and locate rogues
Demonstrate how to manage and administer an Airwave Management Suite and configure Devices using AWMS
Kursinhalt
Introduction to AWMS Installing AWMS Adding Device to AWMS IAP Organizaion and Groups Using Visual RF and Visual RF Plan Network Health Troubleshooting Clients and Wireless Networks Rogue Detection and Using RAPIDS Managing Administrative Acess Alerts Triggers and Reporting Scalability and Redundancy System Administration Wired Device Management Airwave Aruba Groups Configuring Aruba Devices IAP Template Configuration IAP Gui Configuration Cisco Groups and Firmware updates Configuring Cisco Devices with IOS Templates Cisco WLC Configuration
Zum Buchen bitte auf den Ortsnamen klicken
Kurstermine
Dies ist ein
FLEX
™-Kurs. Sie können an einem
FLEX
Training sowohl bei uns vor Ort im Klassenraum als auch über das Internet von Ihrem Arbeitsplatz oder von zu Hause aus teilnehmen.
Deutschland
FLEX™ Training
Please see below our alternative, English language, FLEX™ course option
Österreich
Europa
Bulgarien
Kroatien
Slovakei